Return to Headlines
3/17/20: Update to the Community Regarding Santa Ana Unified School District Full School Site Closures, Meal Distribution Changes and More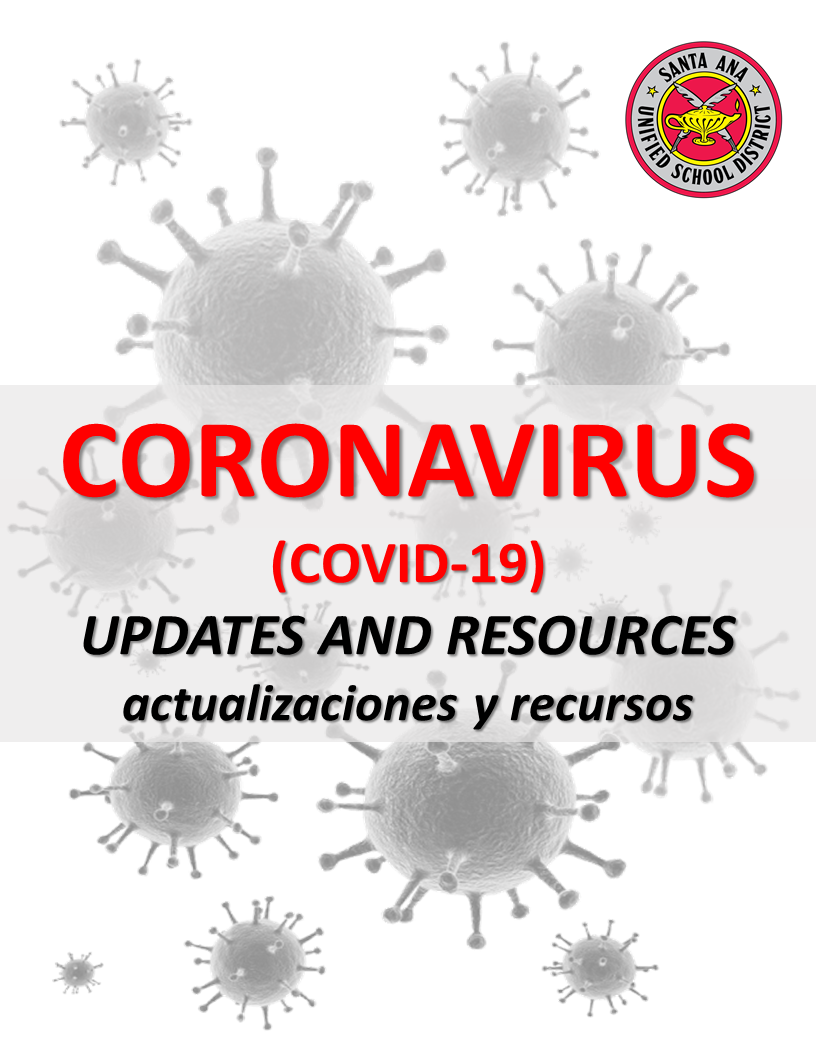 Dear Santa Ana Unified School District Community,
The district is issuing the following update related to the most recent impacts of the Coronavirus on SAUSD operations:
As of Wednesday, March 18, 2020, all SAUSD school sites will be closed.
Breakfast and lunch will continue to be provided to children ages 1-18 for no cost from 8 to 10 a.m. Monday through Friday at the 13 selected school sites below. Children DO NOT need to be present. Click here for a link to the distribution schedule.
- Esqueda Elementary School
- Monte Vista Elementary School
- Martin Elementary School
- Madison Elementary School
- Romero Cruz Academy
- Carr Intermediate School
- Mendez Intermediate School
- Sierra Preparatory Academy
- Villa Intermediate School
- Willard Intermediate School
- Saddleback High School
- Santa Ana High School
- Segerstrom High School
Enrichment activities remain available to students via the District website. Please click here to access the Student Portal.
The health and safety of our students, family, community, staff, and educational partners is our primary concern and focus during this crisis.
We thank you for your trust and patience during this time. Please be sure to visit www.sausd.us on a regular basis for more updates.
---

Actualización a la comunidad sobre el cierre de las escuelas SAUSD
Estimada Comunidad del Distrito Escolar Unificado de Santa Ana,
El distrito está emitiendo la siguiente actualización relacionada con los impactos más recientes del Coronavirus en las operaciones de SAUSD:
A partir del miércoles 18 de marzo de 2020, todos los sitios escolares de SAUSD estarán cerrados.
Se continuará brindando desayuno y almuerzo a niños de 1 a 18 años sin costo de 8 a 10 a.m. de lunes a viernes en los 13 sitios escolares enumerados a continuación. Los niños NO TIENEN que estar presentes para recibir comida. Haga clic aquí para obtener un enlace al calendario de distribución.
- Escuela Primaria Esqueda
- Escuela Primaria Monte Vista
- Escuela Primaria Martin
- Escuela Primaria Madison
- Academia Romero Cruz
- Escuela Secundaria Carr
- Escuela Secundaria Mendez
- Academia Preparatoria Sierra
- Escuela Secundaria Villa
- Escuela Secundaria Willard
- Escuela Preparatoria Saddleback
- Escuela Preparatoria Santa Ana
- Escuela Preparatoria Segerstrom
La salud y seguridad de nuestros estudiantes, familia, comunidad, personal y socios educativos es nuestra principal preocupación y enfoque durante esta crisis.
Le agradecemos su confianza y paciencia durante este tiempo. Asegúrese de visitar www.sausd.us regularmente para obtener más actualizaciones.