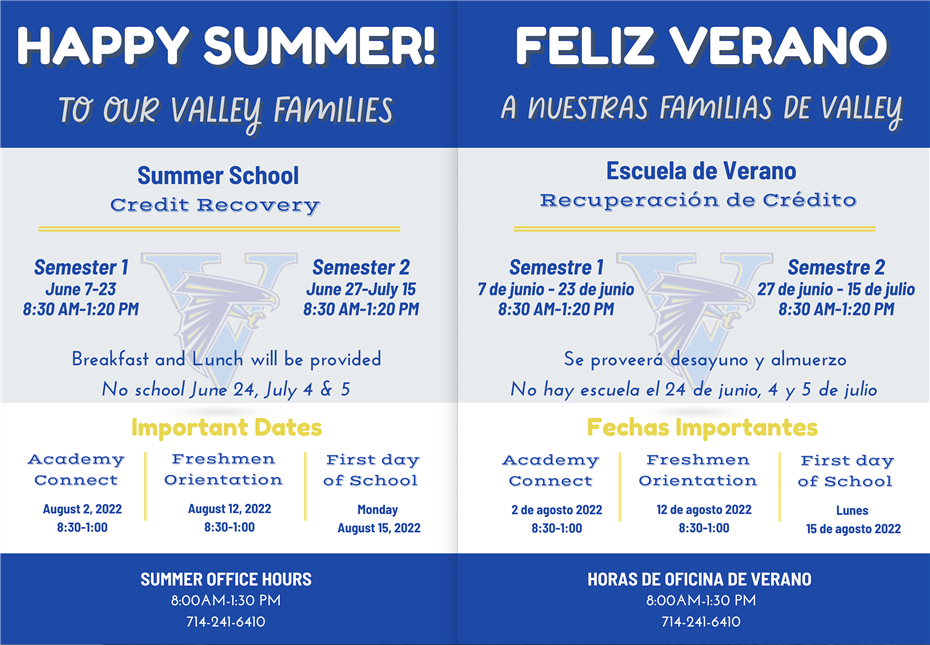 Important Information!
If you are a new student to Valley High School please click here.

Having issues with view your schedule? Cannot login into Aeries? We can help!

Broke your Chromebook? Need a Chromebook replacement? Need a hotspot?

Issues logging in to your Chromebook/Google account?

Need to speak with someone who can help you with general matters?
Principal's Message

Hello Falcon Community,

We have come to the end of a great year. I would like to congratulate our graduating seniors, the Class of 2022 and welcome our incoming freshman, the Class of 2026! Our summer school runs from June 7 to July 15, and our main office will be open from 8:00am-1:30pm each day. We will see you back for Program Verification at the end of July, where you will finalize your registration for the new school year.

Our first day of school is August 15. Hope you all have a wonderful summer and I look forward to seeing you next school year.

Ms. Berger

Principal

Hola comunidad Falcon,

Hemos llegado al final de un gran año. ¡Me gustaría felicitar a nuestros estudiantes de último año que se gradúan, la Clase de 2022 y dar la bienvenida a nuestro estudiante de primer año entrante, la Clase de 2026! Nuestra escuela de verano se lleva a cabo del 7 de junio al 15 de julio y nuestra oficina principal estará abierta de 8:00 a. m. a 1:30 p. m. todos los días. Lo veremos de regreso para la verificación del programa a fines de julio, donde finalizará su registro para el nuevo año escolar.

Nuestro primer día de clases es el 15 de agosto. Espero que todos tengan un verano maravilloso y espero verlos el próximo año escolar

Sra. Berger

Principal

Program Verification Dates

Fechas de Verificación de Programa

July 28-Seniors

July 29-Juniors

August 1-Sophomores

August 2-Freshman

August 3-Make Ups
Parent/Student Resources
You may contact Kenneth Gildar, RADT Substance Use Counselor. At (714) 941-8009, Fax: 714-941-8015 www.projectkinship.org for more information

One stop shop for any news, school/district updates and resources in response to the Coronavirus. Think of it as as the virtual version of 8-3

Click here to file for a work permit.

Here you will find Instructional Packets, how to make Zoom work on your Chromebooks, Sora Reading App, Instructions on how to log-on to Google Classroom, and community resources.