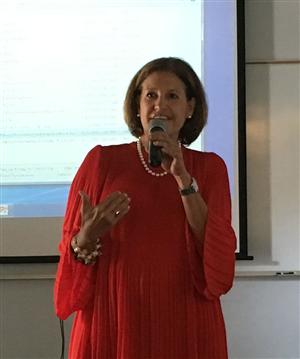 Wilson Students and Parents,

It is a pleasure and honor to be Principal of Wilson Elementary School. where all students are the "Roadrunner Scholars." Because of this, Wilson Elementary School beams with pride. At Wilson Elementary School, we strive to offer a positive, challenging, and instructional learning experience for ALL children in our community that will touch the hearts and minds of our students in a special way. We believe that every student has the ability to reach great educational heights and that it is our responsibility to create learning opportunities that allow students to be, and act, as scholars. We recognize that this is a task that requires a great deal of teamwork between teachers, students and parents. Since we hold high expectations for our students, we recognize that parental involvement is crucial in the reaching of the goal of academic success.

At Wilson, we have a group of highly qualified teachers who work collaboratively with grade level colleagues in order to create an instructional program that is filled with enriching experiences. It is these experiences that will work toward preparing our students for college and career readiness. To be prepared for this task, teachers take advantage of a variety of training opportunities to continue to grow as experts. Our goal is to meet the needs of each student by delivering a balanced instructional program that includes clear objectives, teacher modeling, guided student practice, and supported independent application of skills, strategies and concepts.

As you enter our doors, you will see students engaged in whole group instruction, by eagerly sharing ideas and responding to open ended questions using high-level academic language. Further, you will be able to observe students working cooperatively, in small groups, as they work together to solve whatever problem is at hand.

High expectations for student achievement as well as igniting the excitement of learning are at the core of my educational beliefs. I value the importance of mentoring students to new heights, while maintaining the necessary support systems to ensure that all students have access to the rigor of the new standards. As a result, our Roadrunner Scholars will become 21st Century learners who are technologically savvy, creative problem solvers, effective communicators, and productive, flexible leaders who are ready to thrive in our ever-changing and diverse world.

Just like Michelangelo, who envisioned beautiful sculptures that he was then able to create out of unshaped marble block, at Wilson, we recognize and keep in mind the fantastic "sculptures" that we are privileged to be a part of shaping. Each student is in the process of becoming a work of art, which will be evident when others see the beauty of each enthusiastic and educated mind, ready to be important contributors to society, and in the process of creating their own noteworthy history.

I am committed to supporting the students, teachers, and community at Wilson as we work together to see ALL students achieve to their greatest potential by working together to provide the best education possible. With great excitement, together with our wonderful teaching and support staff, I look forward to an outstanding school year.


Ligia Hallstrom
Principal
-----------------------------------------------------------------------------------------------------------------
Padres y Alumnos de la Escuela Primaria Wilson,
Es un placer y honor ser Directora de la Escuela Primaria Wilson en donde nuestros alumnos son los "Correcaminos Intelectuales." La Escuela Primaria Wilson brilla de orgullo. Nos esforzamos para ofrecer una experiencia de aprendizaje positiva y desafiante para TODOS los niños en nuestra comunidad. Nuestro programa de instrucción está diseñado para tocar los corazones y mentes de nuestros alumnos y de la comunidad. Creemos que cada alumno puede alcanzar la cima de la educación y es nuestra responsabilidad crear oportunidades de aprendizaje que les permita ser y actuar como alumnos. Tenemos grandes expectativas para nuestros alumnos y para eso, es fundamental la participación de los padres en su éxito académico.
La Escuela Primaria Wilson tiene maestros altamente calificados que trabajan de forma colaborativa con sus colegas de nivel de grado para crear un programa de instrucción lleno de experiencias de enriquecimiento que prepararán a nuestros alumnos para la universidad y una carrera. Los maestros aprovechan las oportunidades de capacitación para seguir creciendo como expertos en la materia. Nuestro objetivo es satisfacer las necesidades de cada alumno mediante un programa de instrucción balanceada que incluya objetivos claros, ejemplo del maestro, práctica guiada del alumno y la aplicación independiente de habilidades, estrategias y conceptos.
Al cruzar las puertas observarán alumnos participativos durante toda la instrucción grupal, compartiendo las ideas con entusiasmo y respondiendo preguntas abiertas usando un lenguaje académico de alto nivel. Pueden observar a los alumnos trabajando de forma cooperativa en grupos pequeños mientras hacen un esfuerzo por resolver el problema que los ocupa.
Las grandes expectativas para el desempeño del alumno, así como encender la emoción del aprendizaje son el núcleo de mis creencias educativas. Valoro la importancia de la tutoría a los alumnos a nuevas alturas, mientras se ofrecen los sistemas de apoyo necesarios para garantizar que todos los alumnos tengan acceso a los nuevos estándares. Como resultado, nuestros Correcaminos Intelectuales se convierten en aprendices del siglo XXI que son tecnológicamente capaces de solucionar problemas, creativos, conocedores y comunicadores efectivos y productivos, y líderes flexibles listos para prosperar en nuestro siempre cambiante mundo diverso.
Al igual que Miguel Ángel visualizó esculturas hermosas en un bloque de mármol sin forma, en la Primaria Wilson, reconocemos y tenemos en mente las "esculturas" fantásticas de las cuales tenemos el privilegio de moldear. Cada alumno se encuentra en el proceso de convertirse en una obra de arte: la belleza de una mente entusiasta, educada, contribuyendo de forma importante a la sociedad y finalmente, una historia notable en su propio proceso.
Estoy comprometida en apoyar a los alumnos, maestros y a la comunidad de la Primaria Wilson mientras trabajamos juntos para ver alcanzar el mayor potencial de TODOS los alumnos y ofrecer la mejor educación posible. Con un gran entusiasmo y nuestro gran personal docente y de apoyo, espero un excelente año escolar.
Respetuosamente,
Ligia Hallstrom