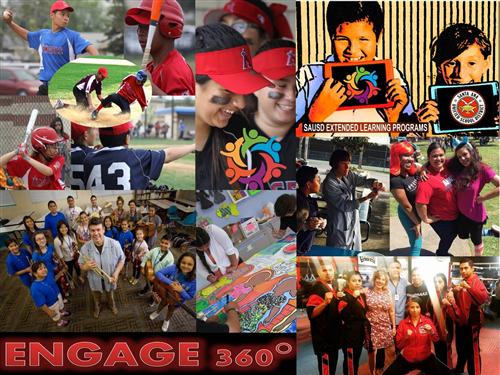 PROGRAM ENRICHMENT

Educational enrichment activities in the after school program include unique services in one of the five areas: 1) Arts and Culture, 2) Science Technology Engineering and Math (STEM), 3) 21st Century Skills, 4) College and Career Readiness, and 5) Specialized Movement. Enrichment activities are designed to enhance the implementation of the current State Standards.
Engage 360° has been fortunate to establish partnerships with community providers who share the same vision, mission, and goals as well as provide unique, quality enrichment opportunities for SAUSD students. The following community providers offer enrichment during an 8-week long program at all Engage 360° sites:

ABOUT OUR ENRICHMENT PARTNERS
Active Learning will providing dance, art and musical theater education for the after school program for the next 7.5-weeks. Last year we performed the Jungle Book and this year is a surprise! Active Learning Programs offer safe, proper and unique activities for children. The separate components within the Active Learning program provide essential goals to enlighten children about lifelong wellness within dance and fitness education.
Watch Active Learning's Video
ORANGE COUNTY CHILDREN'S THERAPEUTIC ARTS CENTER
(OCCTAC)
OCCTAC is partnering with SAUSD to provide Visual Arts and Theatre instruction to elementary and middle school students. This year, students in Elementary and Middle schools will learn about famous Latin American Masters. Students will learn about the lives of these iconic Masters, and artistic elements, techniques, style and materials while exploring, experimenting and creating masterpieces of their own (e.g., sketch, watercolor, crayon, oil pastels, tempera, pencil and collage.) At the end of the program, students' creativity will be celebrated in a Student Gallery and Art Exhibit, where student masterpieces will be highlighted for families, friends, teachers and community members. Middle school students will also have an opportunity to learn about Theatre Arts and Creativity. Students will explore personal expression, voice and movement with OCCTAC's theatre arts program. Informed and created by the students this school year long creative and exploration process culminates in the presentation of a complete theatrical, visual arts, music and movement performance.
Watch OCCTAC's Video
THE BOYS & GIRLS CLUB OF SANTA ANA
The Boys & Girls Club of Santa Ana, Future Leaders Academy, will focus on the core areas of leadership development, global readiness, STEM, and mentor relationships. The Future Leaders Academy is a custom enrichment strategy, consisting of four separate age-and grade-appropriate programs that are delivered through a project-based learning philosophy, ensuring that our mentoring experience is fun, interactive, and leverages the impact of peer support groups.
Watch BGC's Video
DISCOVERY CUBE OF ORANGE COUNTY
Discovery Cube is partnering with SAUSD to bring science to life for our elementary and middle school students. Our mission is to inspire, educate, and impact students and adults of all ages. We strive to increase the skills of both students and teachers in science, technology, engineering and math, thus preparing students to successfully enter the workforce and become productive, problem-solving community members. Our hands-on activities are highly engaging and help students improve their science proficiency in the classroom and better understand the Next Generation Science Standards.
Watch Discovery Cube's Video
The Mariachi Heritage Society and the Santa Ana Unified School District Presents…. Jose Hernandez' Mariachi Academy! The founder and chair, Maestro José Hernández, Grammy nominated mariachi performing artist, foresaw that the future of this vibrant performance genre lies in the hands of our precious youth. In 1991, he established the Society to provide a forum for young people to experience the joy of playing mariachi music and experience the value it can bring to developing their understanding of music in relation to history and culture. Under the supervision of Maestro Hernández, the Mariachi Academy continues to provide quality instruction in violin, guitar, trumpet, vihuela, guitarrón, and voice. Through this partnership, the Mariachi Academy would bring this same level of training to the students who would choose to participate in the Intermediate Level After-School Program. Mariachi Academy is eager to offer a program that is aligned with the artistic processes that encompass the skills, knowledge and abilities articulated in the Visual and Performing Arts Content Standards for California Public Schools and delivered through a team of professionals with proven experience in district and community mariachi programs.
Watch the Mariachi Academy's Video
Toyama offers Karate at your school site as part of the Engage 360° After School Program rotation. Their mission is to engage students into better discipline, character, focus, and educational encouragement using Dynamic Martial Arts to gain their interest. The Karate Program is designed to lead the student's energy, intelligence, physical capacity, and knowledge towards a positive result. Martial Arts Discipline helps increase student academic performance, concentration, reduces behavior, and promotes a better health.
Watch Toyama's Video