Return to Headlines
Social Media Hoax: No Confirmed Cases of Coronavirus in the Santa Ana Unified School District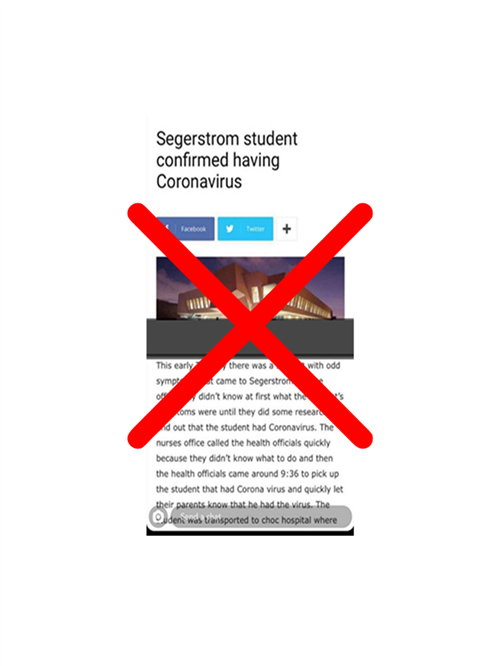 The Santa Ana Unified School District has been made aware that a Novel Coronavirus hoax is circulating through social media. A screenshot, appearing to come from an undisclosed news outlet, alleges that a student at one of our schools has been diagnosed with the virus.
The District wants to reassure our students and their families that there are NO confirmed cases of Coronavirus in the Santa Ana Unified School District.
It remains safe to attend school and on-campus events, and school remains in session at all of our campuses.
SAUSD Superintendent Jerry Almendarez has drafted a message to the community with more information on the measures that the District has in place to monitor for this illness and to protect SAUSD students and families. Please click here to read it.
Orange County has one confirmed case of Coronavirus – the one identified patient who traveled here from China.
There is no evidence that person-to-person transmission has occurred in Orange County, and per the Orange County Health Care Agency, risk of infection to the public in Orange County is believed to be low.
For the latest information on the Coronavirus, please visit the OC Health Care Agency's website here.
---
Se ha informado al Distrito Escolar Unificado de Santa Ana que está circulando en los medios sociales un engaño de Nuevo Coronavirus. Una captura de pantalla, que supuestamente proviene de una agencia de noticias no identificada, alega que un alumno/a en una de nuestras escuelas ha sido diagnosticado/a con el virus.
El Distrito quiere tranquilizar a nuestros alumnos y sus familias de que NO hay casos confirmados de Coronavirus en el Distrito Escolar Unificado de Santa Ana.
Sigue siendo seguro asistir a la escuela y a eventos en el plantel, y las clases siguen en sesión en todos nuestros planteles.
Además, he escrito un mensaje a la comunidad con más información sobre las medidas que tiene en vigor el Distrito para monitorear esta enfermedad, y proteger a los alumnos y familias de SAUSD.
Favor de hacer clic aquí para leerlo.
https://www.sausd.us/site/default.aspx?PageType=3&DomainID=1&ModuleInstanceID=6157&ViewID=6446EE88-D30C-497E-9316-3F8874B3E108&RenderLoc=0&FlexDataID=87224&PageID=1
El Condado de Orange tiene un caso confirmado de Coronavirus —un solo paciente identificado que viajó aquí desde China.
No hay evidencia de que haya ocurrido una transmisión de persona a persona en el Condado de Orange, y de acuerdo con la Agencia de Salud del Condado de Orange, se cree que el riesgo de infección para el público en el Condado de Orange es bajo.
Para la información más reciente del Coronavirus, visite el sitio de la Agencia de Salud de OC aquí: http://www.ochealthinfo.com/phs/about/epidasmt/epi/dip/prevention/novel_coronavirus