Return to Headlines
Círculos Moves From Dream School to Reality with $2.5 Million XQ Grant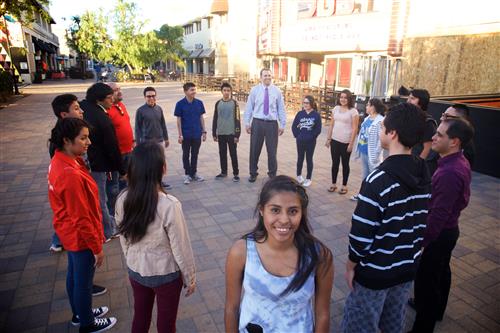 To view a video about Circulos, click here
To learn more about Circulos, click here
Four years ago, a small group of SAUSD employees and community members sat down to design the school of their dreams as part of the XQ Institute's Super School Project - a national competition to rethink high school in America by designing the high school of the future.
Using feedback from parents, students and the community, the group drew up plans for Círculos, where students could work on traditional curriculum through flexible learning environments, and connect with the county's industry leaders through place-based learning.
At the heart of the school's pedagogy was the circle ("círculo" in Spanish).
"There was this idea that we needed to unlock opportunity and access for our kids and so the Círculos idea was the idea of high school deconstructed," said Daniel Allen, Ed.D. Executive Director, School Renewal. "Instead of going to a single building every day for their fouryear experience, we were going to get students outside, connect them to industry players, connect them to community organizations, and connect them to the opportunities that are out there."
Today, Círculos is transforming from a dream into a reality, as XQ has announced that it is awarding the school a $2.5 million grant for development over the next five years and named Círculos to its national cohort of Super Schools.
In addition, aspects of Círculos are being piloted at three SAUSD sites this fall.
At Advanced Learning Academy Early College, a small circle of ninth graders is staying in one classroom all day, where students can choose the amount of time that they spend studying different content areas.
At Century High School, 140 students will open the day with a group circle and will move through their subject areas at their own pace in a flexible learning environment.
At Cesar E. Chavez High School, participating students will visit partnering organizations to network and gain hands-on skills, while teachers assist them in managing their flexible learning options.
"It's going to be a very good experience because I will still get the academic support that I need but I will get to explore different things that will make me see what I want to do in the future," said Chavez student Aritze Gonzalez. "I might discover things that I like that I never knew existed." SAUSD'S