Return to Headlines
SAUSD Statement on Department of Homeland Security Announcement to End Deferred Action for Childhood Arrivals (DACA)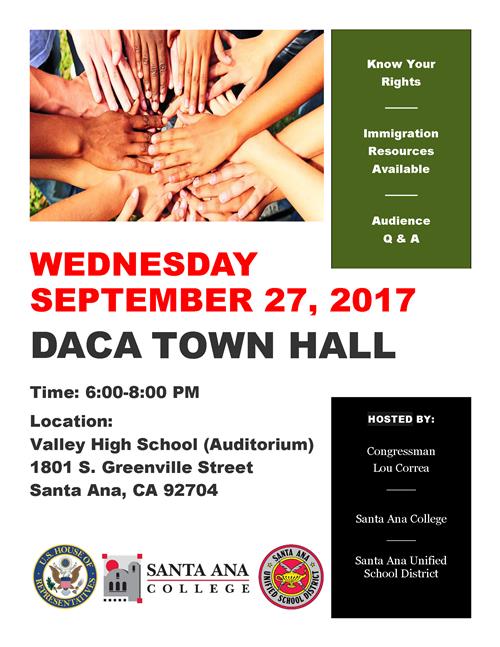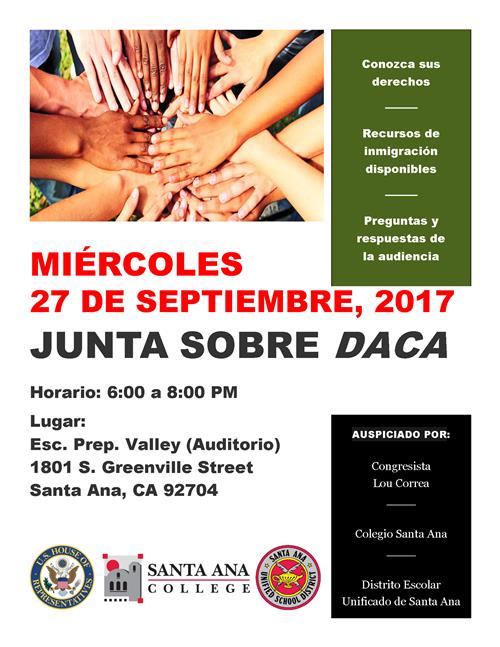 The Santa Ana Unified School District (SAUSD) is standing by its families that may be impacted by the announcement of the Trump administration on Tuesday, Sept. 5, 2017, to end the Deferred Action for Childhood Arrivals (DACA) program while also leaving Congress a six-month window to possibly save the policy.
DACA is a program established by former President Barack Obama in 2012 that grants a form of temporary protection from deportation known as "deferred action" to undocumented immigrants who came to the United States before the age of 16 and have resided here since June 2007. Recipients must, among other requirements, be enrolled in school or have finished high school, and not have been convicted of a felony or significant misdemeanor.
An August 2017 study conducted by Tom K. Wong of the University of California, San Diego, United We Dream (UWD), the National Immigration Law Center (NILC), and the Center for American Progress shows that DACA recipients make positive contributions to the American economy, which benefits the country overall.
The study, which is the largest of its kind to date, shows that 97 percent of respondents are employed or enrolled in school; 72 percent are pursuing a bachelor's degree or higher; and 69 percent moved into a job with better pay after receiving DACA. Data also shows that respondents are twice as likely to start their own business compared to the general population.
"DACA students have been model citizens, paying billions of dollars in taxes, serving our branches of the military, working, and bettering themselves through entrepreneurship and educational endeavors," said John Palacio, President of the Santa Ana Unified School District Board of Education.
Under the plan for ending DACA, announced by Attorney General Jeff Sessions, the Trump administration will stop considering new applications for legal status dated after Sept. 5, 2017, but will allow any DACA recipients with a permit set to expire before March 5, 2018, the opportunity to apply for a two-year renewal by Oct. 5, 2017. Individuals whose permits expire on March 6, 2018, or later will begin to lose their protections and work permits as soon as they expire, putting them at risk of deportation.
On Dec. 13, 2016, the Santa Ana Unified School District Board of Education adopted a resolution reinforcing that the District is a non-threatening place for its students and their families to seek help, assistance and information without fear or anxiety about immigration enforcement efforts.
The resolution also reinforced that the purpose of the District is to ensure students receive an education in a safe, non-disruptive, non-threatening, and non-discriminatory learning environment, regardless of the student's or their families' immigration status.
"The Board will consider at its next meeting to be held Tuesday, Sept. 12, 2017, to adopt another resolution to support and protect SAUSD students that will be impacted by this rescission of DACA," said Palacio.
"The uncertainty around DACA is creating anxiety for many students, families, and employees in our schools. It is SAUSD's priority to make sure we do everything within our power to make sure that all of our students are safe, honored, and respected while in our care," said Stefanie P. Phillips, Ed.D. Superintendent of Schools.
The Board and Administration look forward to working with the President, Congress, Governor Brown, and the State Legislature to develop and pass permanent immigration reform as well as solutions and resolutions to the DACA program.
Founded in 1888, the Santa Ana Unified School District is the 7th largest school district in California, and the largest school district in Orange County. The district educates approximately 50,000 students at 57 schools throughout the city of Santa Ana. Approximately 60% of district students are English learners with Spanish being the most common language, and approximately 91% of the student population is eligible for free and reduced-price meals.
For more information:
Click here to read about the upcoming DACA Town Hall
Click here to read the SAUSD Board of Education's resolution supporting DACA
Click here for a video message by Superintendent Dr. Stefanie Phillips
Click here for FAQs on DACA rescission and workplace rights
Click here for FAQs on DACA termination
Click here to read the top 5 things to know about President Trump's announcement to end DACA
Click here to read SAUSD's 'Safe Haven' District Resolution
DACA and California's education system: Some answers to common questions