Return to Headlines
Santa Ana Unified School District Band Instructor Nominated for National LifeChanger of the Year Award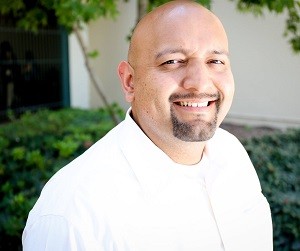 Santa Ana High School music teacher Victor de los Santos has been nominated for the 2016-2017 national LifeChanger of the Year award. Sponsored by the National Life Group Foundation, the national LifeChanger of the Year program recognizes and rewards the very best K-12 public and private school educators and employees across the United States who are making a difference in the lives of students by exemplifying excellence, positive influence and leadership.
Victor de los Santos was nominated by his colleague, Joseph Kaye. "Mr. Santos has proven himself to be a genuine leader, not only on the high school campus, but at the district level as well," said Kaye. "Through a plethora of music festivals, honor band events and curriculum planning, Mr. Santos commits himself to the district's needs. He is also humble in putting other schools' needs before his own."
In addition to impacting the more than 200 students in the band program, Santos indirectly has a positive effect on students' families, other teachers and community members. Santa Ana High School staff say that he is a caring and nurturing band director who is willing to spend countless hours at school preparing for lessons, organizing events and counseling students – not just in music, but in life. As a result of his dedication and extreme altruism, he has made a beneficial difference in the lives he has touched.
Each school year, the LifeChanger of the Year program receives hundreds of nominations from all 50 states and the District of Columbia. For 2016-2017, there will be a total of 15 individual LifeChanger of the Year awards. In addition, a 16th prize, the "National Spirit Award," is given to the school and nominee whose community demonstrates the most support for his or her nomination. Each winner will receive a cash award that is split between the individual winner and their school. The national Grand Prize award is $10,000. Winners are announced via surprise award ceremonies held at their schools. The top five winners will also be honored at a national awards ceremony in Naples, Florida. Winners will be announced in spring 2017.
Winners will be chosen by a selection committee comprised of former winners and education professionals. Nominees must be school district employees. Award winners are selected based on the following criteria:
· A proven ability to make a beneficial difference in the lives of students
· An ability to positively add to the development of the school's atmosphere
· Is involved in leadership activities at the school and/or community level
· A demonstrative record of excellent performance at the professional level
· A commitment to producing a nurturing atmosphere
· Adherence to high moral and ethical standards
The LifeChanger of the Year program begins accepting nominations in early June so that graduating seniors have the opportunity to say "thanks" by nominating a teacher or school employee who helped shape their academic careers or touched their lives in a special way. Parents of graduating seniors are also encouraged to nominate someone who played a significant role in their child's education.