Return to Headlines
High School Inc. Academies at Valley High School Culinary Arts Students Win National Cooking Up Change Competition in D.C. for the Fourth Time!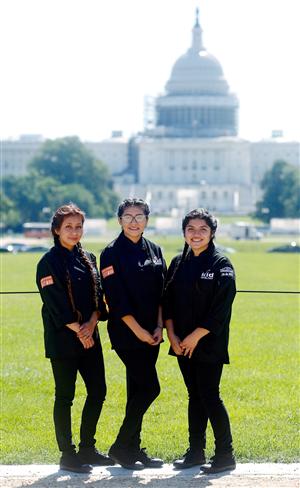 The Culinary Arts Team of High School Inc. at Valley High School did it again! They are the national champions of the Cooking Up Change Culinary Arts competition for the fourth time in five years. Congratulations to Rosa Aguilar, Daisy Lagunas, and Mariah Macias for proudly representing Santa Ana while facing tough competition from nine other cities across the United States to bring home a 1st place finish.
The road to becoming champions began with a regional competition hosted locally by Kid Healthy and Northgate Gonzalez Market as part of a national program, founded by Healthy Schools Campaign, based in Chicago. As a requirement of the competition, students must work within the constraints of school food service including limited ingredients, tight budgets, and limited steps to produce the full meal. The team did just that. After creating a delicious meal that included Moroccan stuffed zucchini, Moroccan salad, and spiced pear cups, the trio captured the attention of the judges and were awarded 1st place out of 11 high schools in Orange County who competed in the 5th annual Cooking Up Change® competition.
As the 1st place winner, Rosa, Daisy, and Mariah, had an opportunity to represent Orange County at the National competition in Washington, D.C. on June 6, 2016. After a tough competition among nine other schools from across the country, the trio learned that they were the champions, a fourth time honor for the High School Inc. Valley High School Program. The team was led by Chef Instructor Tiffany Heremans and Chef Mentor Jennifer Minichiello. "As we were all standing together as a team before the winner was announced, I could feel the excitement, the nervousness, and our heart racing. We all held hands and as soon as they announced that Valley High School was the winners, we could not stop jumping up and down, laughing, crying, and shouting sounds of joy. To me, as their instructor, it was one of the best days of my life! I saw them put so much time into this competition which was a struggle trying to balance with their school and work schedules. In the end, it was all worth it! I cannot be more proud of them," said Chef Instructor Tiffany Heremans.
The winning trio all graduated from Valley High School on June 14, 2016. Daisy Lagunas will be attending California State University Fullerton where she will major in Business Administration while taking courses in Advanced Baking and Pastry and Orange Coast College. Rosa Aguilar and Mariah Macias will be enrolling in the Culinary Arts Program at Orange Coast College in the fall to continue their dreams of having careers in the Culinary Arts industry.
About High School Inc.
High School Inc. is a partnership with the Santa Ana Unified School District, the Santa Ana Chamber of Commerce and the High School Inc. Foundation Board. It is a revolutionary program started in 2007 that prepares students for a modern day workplace. The program is comprised of six academies that include Culinary Arts and Hospitality, Healthcare, Automotive Logistics and Transportation, New Media, Global Business and Engineering, and Manufacturing and Construction.