Return to Headlines
SAUSD November 2023 Employees of the Month Highlighted During Board of Education Meeting
The District's Employees of the Month for November 2023 were highlighted during the Nov. 14, 2023 Board of Education meeting.
The Certificated Employee of the Month is Claudia Valencia, a teacher at Godinez Fundamental High School.
The Classified Employee of the Month is Ignacio Martinez, a plant custodian at Santa Ana High School.
Congratulations to both! Learn more about them here, in the remarks that were read aloud during the Board meeting.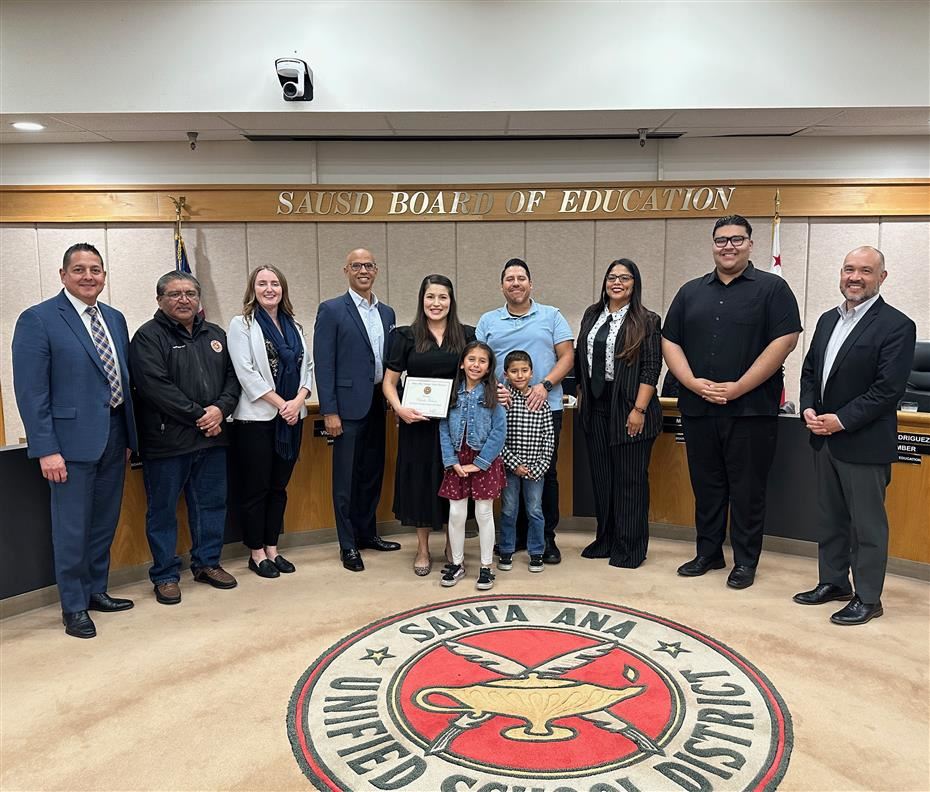 Claudia Valencia – Teacher, Godinez Fundamental High School
Good evening Superintendent Almendarez, Members of the Board, Members of the Cabinet, Ladies, and Gentlemen:
With great pleasure and pride, I present Ms. Claudia Valencia, Teacher – Godinez Fundamental as the November 2023 Certificated Employee of the Month.
Claudia Valencia is nothing short of an exceptional teacher. She goes above and beyond the job description to ensure her lessons are innovative and accommodate all student learners. Her classroom environment is warm, welcoming, and detailed, with examples of the incredible student work she has guided students to create. In addition, students love going to her class, and when asked which teacher deserves to be recognized, her name is repeated again and again.
Ms. Valencia has impacted hundreds of first- and second-year students at our school, and she has helped students have a positive experience in math that starts them on their journey throughout high school and beyond. She is a collaborative colleague and team player and has led course-like meetings for her team for several years, bringing her enthusiasm for her subject matter and her students with her. Multiple math colleagues have described her as "a perfect square root of 100" (a 10) of a teacher.
Ms. Valencia routinely works with students outside of the school day who might need additional support or who just prefer to work with her since she constantly shows her students that she wants them to be successful. Students see her as a role model, someone who perseveres when things become challenging, and someone who has the grace not only to keep going but to help others along the way.
Ms. Valencia allows students to see themselves as capable mathematicians and has given them the skills to support that belief. She has embraced the way technology can benefit education, but she also knows when paper and pencil are the best tools. Her smile and warm greetings are appreciated around campus, and students and faculty see her as an example of both a strong leader and a nurturing educator.
Ms. Valencia is a proud product of the Santa Ana Unified School District and has since become an incredible teacher and mentor in our district, following the proud tradition of the fantastic teachers and mentors she had growing up. Her passion inspires, and her dedication supports her students as she gives them both the confidence and the ability to fulfill their dreams.
Please join me in congratulating Ms. Claudia Valencia.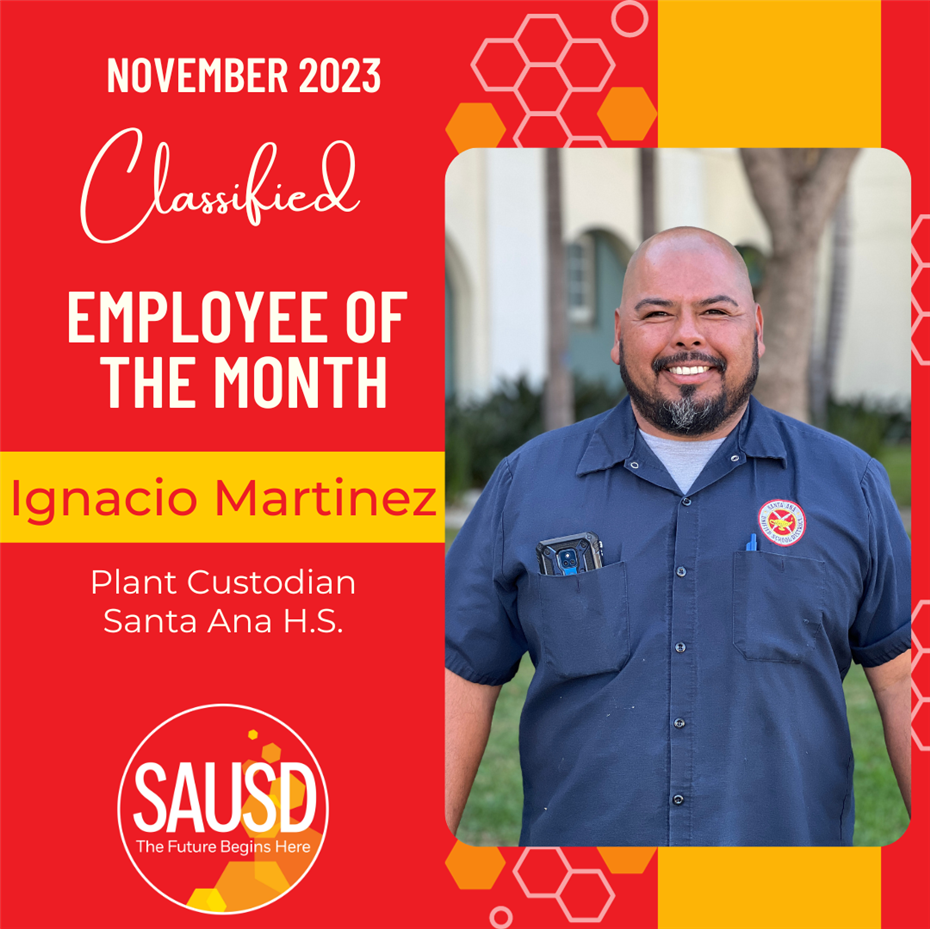 Ignacio Martinez - Plant Custodian, Santa Ana High School
I would like to express my sincere appreciation for the exceptional contributions Ignacio Martinez has demonstrated at Santa Ana High School. His commitment to our mission has not only made a significant impact on our overall success but has also set a commendable example for everyone.
Ignacio's focus on prioritizing the needs of our students is truly remarkable. His efforts to create a positive learning environment have not gone unnoticed. In addition, his ability to treat all staff and students with respect reflects your understanding of the importance of team building and family. We are truly fortunate to have Ignacio at Santa Ana High School.
Although Mr. Martinez was unable to join us today, please join me in congratulating him.