Return to Headlines
Board of Education Honors SAUSD's May 2023 Employees of the Month
The Board of Education on May 23, 2023 honored the District's Employees of the Month for May 2023.
The Certificated Employee of the Month for May 2023 is Thuc Nguyen, a Mod/Severe (Autism) Preschool Teacher at Mitchell Child Development Center.
The Classified Employee of the Month for May 2023 is Ricardo Cabrera, Delivery Driver for Nutrition Services.
Congratulations to both!
Read more about them here: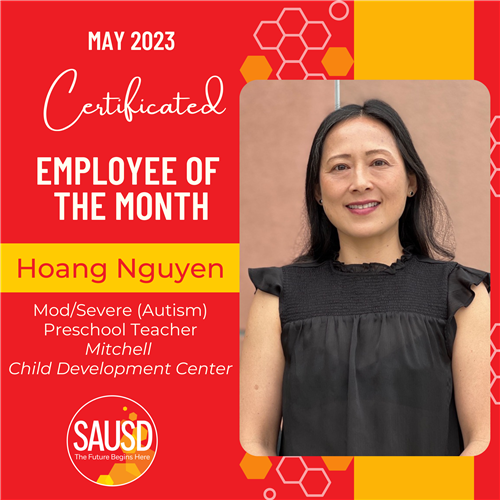 Thuc (Hoang) Nguyen
Here is how Mitchell Child Development Center Principal Mark Bello describes Nguyen:
"With great pleasure and pride, I present Ms. Thuc (Hoang) Nguyen, Special Education Teacher, at Mitchell Child Development Center as the May 2023 Certificated Employee of the Month.
We are honored to have Ms. Nguyen at Mitchell CDC. Ms. Nguyen has been a teacher at Mitchell CDC since the fall of 2014. This evening we recognize her for her years of service to the students of Santa Ana Unified.
Ms. Nguyen has worked at Mitchell CDC for 9 years out of her 20 years teaching career with SAUSD. In addition, Ms. Nguyen runs the Summer Enrichment Program at Heroes. She also supports the students at Heroes Elementary in a before-school tutoring program, as well as partners with the APE specialist in running an afterschool student Yoga program.
Ms. Nguyen has excellent knowledge in early childhood special education (ECSE), assessment procedures, collaboration, and inclusive practices, as well as knowledge of a variety of evidence-based practices, [e.g., classroom management, visual supports, positive behavioral inventions & supports (PBIS) and collaborative strategies for working with parents, colleagues and a variety of School Districts, as well as overall programming].
As one of our ECSE teachers, Ms. Nguyen contributes to improving our school climate/culture and staff development by being an active participant in our Mitchell Teacher Cohorts for planning parent education and training. Hoang is a lifelong learner as she continues to participate in continuing education/professional development events throughout the year.
Through the recent COVID challenges times that have faced our profession and our District, Ms. Nguyen worked diligently with our teacher task force to pull together virtual early childhood teaching resources and created dynamic lesson plans to support our Mitchell CDC teachers with virtual instruction.
In her classroom, Hoang's teaching skills shine bright. Her classroom instruction facilitates active student engagement and independence, as well as connects and supports parent involvement and participation.
Through her special education studies and work experience, Hoang presents as an expert Early Childhood Special Education (ECSE) teacher for working with a variety of students with special needs and their families, as well as developing as a professional educator.
She is informative, respectful and consistently models professional integrity and ethical responsibility. Hoang presents with excellent communication skills, tactful style, and leadership skills. In addition, Hoang evidences excellent organizational skills, an empathic attitude, and an enthusiastic teaching style, as well as she is a highly supportive educator with a commitment to excellence and student achievement. Her potential for future success is unlimited.
We are proud to have Thuc (Hoang) Nguyen at Mitchel CDC and know that she deserves to be celebrated."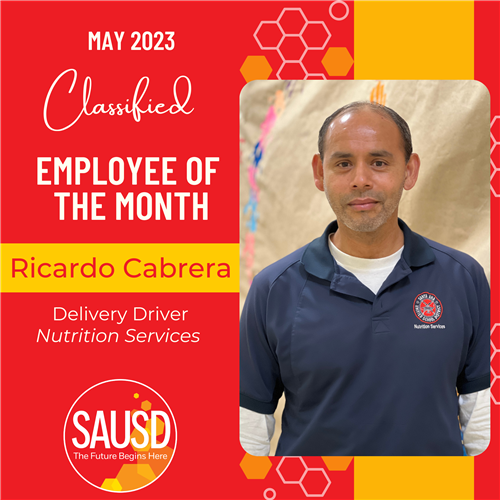 Ricardo Cabrera
Here is how Nutrition Services Department Director Josh Goddard describes Cabrera:
"It is a privilege to introduce my friend and colleague, Mr. Ricardo Cabrera. Ask yourself, where are you at 4:45 a.m.? I know where I am. While I and I am sure many of you are still comfortably in bed, Ricardo is loading up his refrigerated truck with fruits, vegetables, whole grains, and everything else students are expecting to enjoy at breakfast and lunchtime. For more than 22 years, this is a responsibility Ricardo has accepted and executed to perfection.
After loading his truck, Ricardo gets behind the wheel and makes his way from school to school, guaranteeing the food thousands of students need for effective learning is safely delivered. Ricardo has a perfect driving record in over two decades of service, and when his regular responsibilities are fulfilled, he always asks his supervisor and fellow drivers how he may be of service. No matter the weather conditions, be it rainy, windy, cloudy, sunny, hot, humid, or muggy, Ricardo pushes through it.
Whether it's a power outage (on some occasions, multiple sites including the central kitchen have lost power), or a traffic emergency, Ricardo finds a way. When traffic is jammed, he promptly communicates the delay to our cafeterias so meal service is undisturbed. On too many occasions to count, Ricardo has dug the District out of a tricky situation.
For example, some time ago a power outage completely wiped out a cafeteria's entire inventory, and Ricardo managed to organize his route in such a way that he could devote time and energy to the emergency pick-up and delivery and still make all his other scheduled deliveries without missing or being late to a single stop.
How does he do it? Well, Ricardo's normal pace of work is impressive enough, but when he feels the need to turn it up it is magical to behold. It is no exaggeration to say: Ricardo is a virtuoso. Our department regularly relies on Ricardo to train and mentor new drivers, teaching the basic functions of their role, emphasizing the importance of traffic safety, and sharing finer details that only someone with his experience and expertise would know. Ricardo is universally respected by his peers for his unparalleled productivity, kindness, helpfulness, consistency, and wisdom. While we all know that no one has limitless energy, if anyone were an exception to the rule, Ricardo would be it.
Ricardo has demonstrated in his 22 years of service to SAUSD, that he is one of the most reliable members of our team, and he deserves to feel appreciated and recognized for his hard work.
This acknowledgment confirms what his colleagues already know. But now the entire SAUSD family gets to opportunity to honor the person he is and the value he creates for our District. As I mentioned, Ricardo's day begins long before the sun comes up. Therefore, let us celebrate this bright star who does much of his work in darkness.
Congratulations, my friend.
We are proud to have Ricardo Cabrera at Nutrition Services and know that he deserves to be celebrated."