Return to Headlines
SAUSD Employees of the Month for March 2023 Named
Congratulations to SAUSD's Employees of the Month for March 2023, as named during the March 28, 2023 Board of Education meeting.
Alicia Tull, a teacher at Pio Pico Elementary School, is the Certificated Employee of the Month for March 2023.
Angelina Alcantar, site coordinator at Monte Vista Elementary School, is the Classified Employee of the Month for March 2023.
Congratulations to both!
Read more about them here: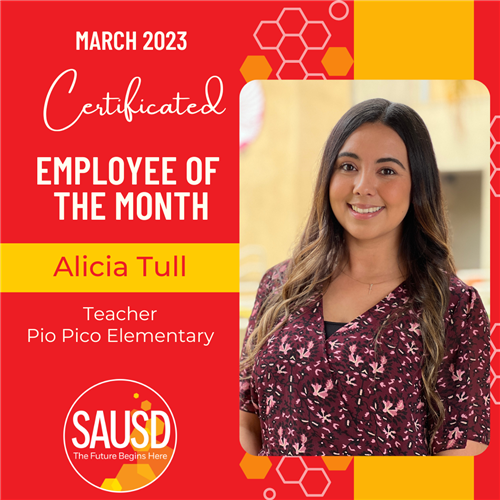 Alicia Tull - Teacher, Pio Pico Elementary
Here is how Pio Pico Elementary Principal Dr. Lupe Gomez describes Tull:
We are honored to have Ms. Alicia at Pio Pico Elementary. It is my pleasure to recognize an exceptional Spanish Dual Language kindergarten teacher who has been selected as the Certificated Employee of the Month.
Mrs. Alicia Tull has made a significant impact on our students' lives by providing cultural relevant education, which is an important aspect of ensuring that every child feels valued and included.
She has also demonstrated a commitment to excellence in education. She shows a genuine interest in students' lives and encourages them to share their thoughts and ideas.
Mrs. Alicia Tull has taken the time to understand our students' cultural backgrounds, and she has incorporated this knowledge into her teaching. This has resulted in a classroom where students from all walks of life feel valued, respected, and appreciated.
She listens with empathy and responds with kindness. Her students are not only learning academic skills, but they are also learning about different cultures and traditions, which is an essential aspect of creating a respectful and inclusive society.
Her dedication and hard work have not gone unnoticed. I would like to congratulate Mrs. Alicia Tull, our incredible Spanish Dual Language kindergarten teacher. Thank you for your outstanding work and for making a lasting impact on the lives of our students."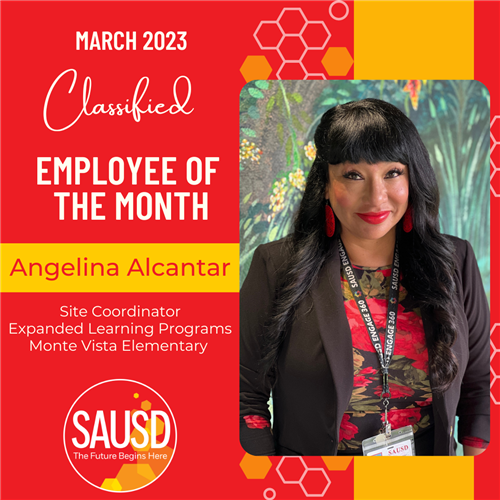 Angelina Alcantar – Site Coordinator, Monte Vista Elementary
Here is what Monte Vista Elementary Principal Felisa Gear has to say about Alcantar:
"Ms. Alcantar, as she is known, is a positive, spunky, and motivating staff member who inspires ALL students and staff.
When you walk down our hallways at school, it is not uncommon during holidays or Spirit Weeks to see her handiwork through the decorations, artifacts, and posters she creates for all to enjoy.
She helps students see the connection between day and the after-school program where she serves as the Engage 360 Site Coordinator.
She goes above and beyond helping to motivate students through the unique programing such as dance, art shows, cheerleading, and holiday performance for students to perform and parents to participate in.
She truly cares about students and wants them to shine and so she creates purposeful and creative opportunities for all.
We are proud to have Angelina Alcantar at Monte Vista and know that she deserves to be celebrated."