Return to Headlines
Video: SAUSD Board of Education Recognizes Employees of the Month for November 2021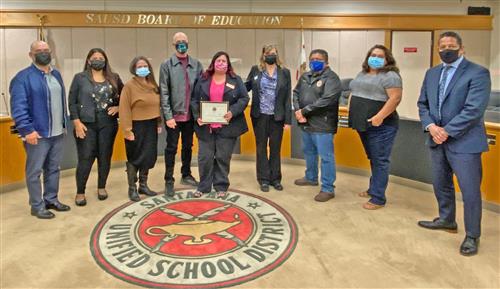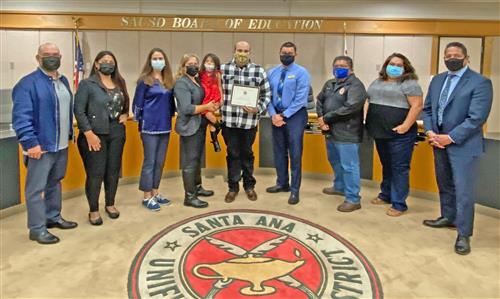 Click here to watch a video of the recognition by the Board
The Santa Ana Unified School District Board of Education on Nov. 9, 2021 recognized the District's employees of the month for November 2021.
The Certificated Employee of the Month for November 2021 is Tina Vander Wende, a nurse at Santa Ana Valley High School.
The Classified Employee of the Month for November 2021 is Jonathan Montes, Student Support Paraprofessional (SSP) Special Ed at Lorin Griset Academy.
Congratulations to both!
Read more about the honorees, below.
TINA VANDER WENDE
Vander Wende has been with the District for five years.
Principal Katie Mitchell-Berger has this to say about her:
"Ms. Tina Vander Wende is an exceptional support to our students, staff, and community.
These last two years, she has been an invaluable resource as we navigated through the complexities of PPE, quarantine, and COVID testing.
She has not only guided the school administration through this challenging time, she has also presented to students, families, and staff, giving them valuable information in order to keep our school community safe.
She is always willing to support anyone in need, whether it be to have a reassuring talk with students, support families in health-related issues, or to help at another school site when necessary.
Tina always goes the extra mile with a smile on her face and a warm sense of humor, although going to the Health Office can be a stressful experience for students, they are quickly comforted by Tina's vast knowledge and calm and caring demeanor.
We are proud that Tina is part of our Valley High School family. She truly cares about the health and well-being of our students and our community, and we appreciate all she has done for us."
JONATHAN MONTES
Montes has been with the District for two years.
Principal Michael Parra describes him this way:
"Intuitive, proficient, and flexible. These are some of the words that describe the nature and work that Jonathan exhibits. He intuitively understands how to work with our high need, at-promise, special education students.
His work in promoting and managing positive behavioral change and the right learning environment that supports their academic progress is why so many of our students, that may have formerly experienced a disruption to their educational progress, are finding success at Lorin Griset.
He leverages his proficient use of educational technology platforms to assist both our students and teachers to access materials and facilitate learning intervention. He flexibly supports students across all subject matters in his work environment and follows up to track their progress.
As a dedicated and committed member of the Lorin Griset community, Jonathan goes above and beyond to motivate and incentivize our students in responsible decision-making and taking advantage of the tutorial opportunities that he provides after-school.
We are so fortunate to have someone that sees our students' potential, looking beyond their past struggles, and engages all his skills and capacities to provide them with hope and success."