Return to Headlines
Students to Learn About the Benefits of Graduating from Santa Ana Unified High Schools, including Free Tuition at Santa Ana College their Freshman year and Laptop, during College Promise Breakfast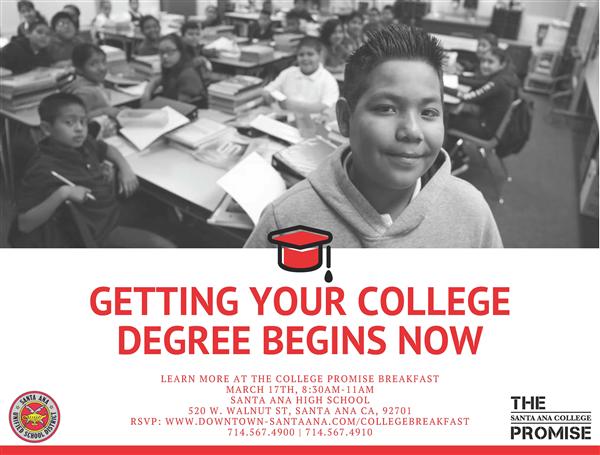 Through a partnership between Santa Ana Unified and Santa Ana College, SAUSD graduates can attend their freshman year for free and receive a laptop when they enroll at Santa Ana College full-time.
The program is called the College Promise, meaning it's a promise and a guarantee from the District and College to ensure that students have access to attend college and achieve their dream careers.

To provide an opportunity for students to have direct contact with staff and volunteers to learn more about the Promise, the partners have teamed up with IHOP, the Downtown Santa Ana business community and community organizations to host a free breakfast from 8:30 a.m. - 11 a.m. on Friday, March 17, 2017 at Santa Ana High School, located at 520 W. Walnut St. in Santa Ana.

In addition to learning about the opportunities and resources at Santa Ana College, students will also be able to obtain information about the guaranteed transfer program to California State University Fullerton and University of California Irvine, another opportunity exclusive to Santa Ana Unified School District graduates.