Return to Headlines
Higher Ed Partnership ensures more SAUSD students can go to college and succeed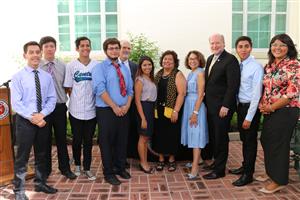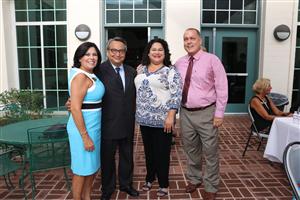 Award for Innovation in Higher Education Launch Celebration

SAUSD Superintendent Signs Historic Agreement with 3 Orange County Higher Education Leaders
(Santa Ana, CA)—On Thursday, September 10 at 9:00 a.m., the leaders of the Santa Ana Partnership and the CEOs of Santa Ana Unified School District (SAUSD), Santa Ana College (SAC), California State University, Fullerton (CSUF) and University of California, Irvine (UCI) celebrated the launch of the Award for Innovation in Higher Education in Orange County at Santa Ana High School.
"This partnership is unique in that it provides a pathway for our students to both the community college and one of two four-year universities in Orange County. There are many partnerships throughout the state that provide pathways to community colleges, but this is the only one that I know of that includes a partnership with a school district, community college and two four-year universities. Our responsibility in the Santa Ana Unified School District is to ensure that our students are prepared when they get to college so that they can be successful," said Rick Miller, Ph.D, Superintendent of Schools.
In March 2015, the California Department of Finance approved 14 institutions of higher education for funding through the Awards for Innovation in Higher Education. SAC was selected to receive $5 million to help fund the Santa Ana Partnership. SAC is the only community college in Orange County selected for this award.
"The Santa Ana Partnership has worked to support student achievement and close equity gaps since 1983. SAC is proud to be the backbone organization for the Partnership as the open access institution between the K-12 education system and the universities. In collaboration with SAUSD, UCI, and CSUF as well as numerous community organizations we can achieve our goal of having a college degree in every home in Santa Ana by 2025," said SAC President Erlinda J. Martinez, Ed.D.
This agreement paves the way for SAC to share a portion of the $5 million award with CSUF and UCI. SAC will share $1 million per institution, if CSUF and UCI will agree to have in place a guaranteed transfer agreement with SAC to admit SAC graduates from SAUSD who wish to earn their bachelor's degrees at CSUF or UCI. The MOU will provide a transfer guarantee to either CSUF or UCI for SAC graduates who enroll directly in college from SAUSD graduates.
"This award is both life-changing for the diverse students who earn its support and game-changing for the communities in which they will one day build careers and raise families," said CSUF President García. "It is yet another step in our collaborative effort to bridge the achievement gap through equitable access to higher education, from pre-school to Ph.D. and beyond."
Revenue generated annually by the each university's Santa Ana Partnership Award for Innovation endowment must be matched 1:1 by each recipient institution and will be awarded to students from the Partnership's pipeline with the first scholarships to be awarded to students attending CSUF or UCI in the fall 2016 term.
"This important partnership reaffirms our commitment to providing a world-class education to all of California's most promising young people" said UCI Chancellor Howard Gillman. "Combining academic excellence with meaningful access is the great challenge of American higher education, and through programs such as these we will hope to be an example to others."
The remaining $3 million will provide the following benefits to the community and the Santa Ana Partnership:
· One-time funding of $250,000 will increase the capacity for evaluation of student progress by facilitating the collection, analysis and presentation of data from all Santa Ana Partnership institutions. Technology infrastructure will be invested in to upgrade the Partnership's evaluation hub, located at UCI.


· A $1 million endowment will be established at SAC to ensure that a significant number of SAUSD students can attend college while still in high school. All endowment proceeds will provide the technology, textbooks, and academic materials required for early college enrollment. High school seniors in the SAUSD will have the option of leaving high school two hours early and attending college classes at their high school or on the SAC campus.
· A $1 million endowment will be created by the SAC Foundation to expand parent efforts focused on peer training. By better educating Santa Ana parents about how to help their sons and daughters get into and through college, more students will achieve success in higher education. Funding will be made available for parent stipends and to help other communities adopt the practices of "The Ten Commandments of Helping Your Child Complete College on Time."
· SAC will establish an endowed SAC Scholars Fund with $750,000 to support high achieving, low-income students from SAUSD who are enrolled at SAC to enable them to fast track their university transfer with renewable awards based on good academic achievement. By reducing outside work hours, students will be able to better focus on academics and attain their bachelor's degrees more quickly. The first awards will be made in 2016 and continuing every year afterwards.
Proceeds from the Santa Ana Partnership Award for Innovation endowments will be exclusively used to underwrite the higher education costs of students coming from the SAUSD to UCI and CSUF via SAC as part of the SAC Adelante Transfer Guarantee. Students going directly to UCI and CSUF as freshmen from SAUSD will also be eligible to receive scholarships. Good academic standing, financial need, and college attendance on a full-time basis will be required.
About the Santa Ana Partnership
For over 30 years, the Partnership has been dedicated to postsecondary education access and completion for all youth in Santa Ana. The partner organizations include Santa Ana Unified School District (SAUSD); the City of Santa Ana; California State University, Fullerton (CSUF); the University of California, Irvine (UCI); the Hispanic Education Endowment Fund; Padres Promotores de la Educación; Santa Ana College (SAC); and numerous community-based organizations. The collaborative efforts of all partner institutions have resulted in the majority of SAUSD graduates starting college ready for college-level work in English, despite being one of the nation's cities with the highest concentration of Spanish speakers. Not only are more SAUSD graduates ready for college, 26 percent have also accomplished some college coursework before high school graduation. Priority admission to SAC with financial aid/scholarship support is guaranteed for SAUSD students, as is transfer to both UCI and CSUF. A total of 20,000 secondary and college students benefit from Partnership initiatives annually.