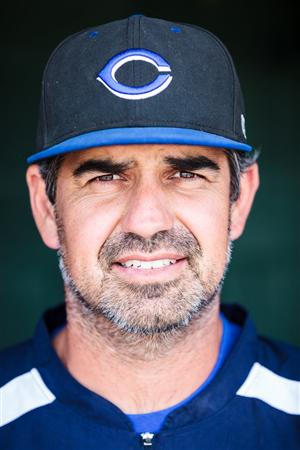 Coach Cortes has completed his 19th year as the Century High School head baseball coach and his 26th overall as part of the Century High School baseball program. He is a proud graduate of Century High School, class of 1992, Century's first graduating class. While attending Century, he played baseball and football and holds the honor of being the first Century H.S. athlete to be named First Team All-league (Pacific Coast) in two different sports.

While attending Century, he earned a 4.1 cumulative GPA. After graduating high school, he attended the University of San Diego, earned a Bachelor's of Arts in History and Anthropology and received his teaching credential in Social Science, all in four years at USD as a student-athlete. He continued his higher education by receiving a Masters in Education from Cal State San Bernardino in 2001.

Coach Cortes has been married to his beautiful bride, Melissa, for the past 23 years. Melissa is the rock behind the scenes of Century's baseball program, as she devotes her life to her family, allowing Coach Cortes to spend numerous hours outside of his family life on the development of Century's baseball players. Coach Cortes has one son, Noah, who is 19 years old, and two daughters, Olivia and Faith, 16 and 12 years of age respectively.

Under the leadership of Coach Cortes and his wonderful coaching staff, Century High School Baseball has established a winning tradition over the last decade and half in Santa Ana and around Orange County. Century Baseball has qualified for the CIF Playoffs in 12 of the last 15 years and won 3 of the last 8 Orange League championships with 4 second-place finishes. Century Baseball not only holds the highest winning percentage of any of the Santa Ana USD schools in the last fifteen years, but also in the last 5 years, Century Baseball is in the top 10 winning percentage of all high schools in Orange County. An astonishing fact when you consider that, in most years, Century Baseball has 1 or 2 players in their line-up who first started playing baseball in their first or second years of high school.

Some of the most proud program accomplishments are as follows. In 2019, Century Baseball went on to record the most wins ever by any Santa Ana Unified School District high school, a total of 24 wins. Academically, the Century baseball team has averaged a minimum of 3.1 GPA for the last decade and half. We are also very proud of having a 99% graduation rate of all varsity players since the school first fielded a varsity team in 1991. Century Baseball has had a number of different players who have continued their playing careers at all levels of college, from Stanford University, University of Southern California, and the University of San Diego to our local junior colleges, and at all levels in between. In 2022, Century Baseball will have two former players, Cristian and Nick Lopez, playing Division I baseball; Cristian at the University of Illinois, Chicago and Nick at the University of Southern California. In addition, it will also have two players playing at local junior college powerhouses, Adam Santana at Santa Ana College and Andre Naranjo at Cypress College. It will only be a matter of time when these two athletes will continue their playing careers at the university level.