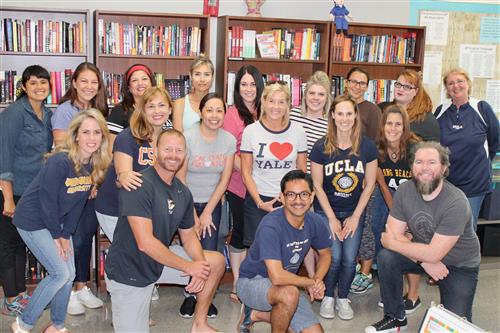 "Books let us into their souls and lay open to us the secrets of our own." ~William Hazlitt

The English curriculum is designed to improve reading, writing, listening, speaking, and thinking skills for students of all abilities. All students are required to take four years of English and are introduced to a variety of literature, including novels, short stories, plays, poems, and non-fiction. They are expected to do an extensive amount of writing, including both creative and analytical essays.

Student work is kept in a digital portfolio so that students can monitor their own progress, reflect on it, and publish. During the senior year, students complete an Exit Portfolio that demonstrates four years of writing across the curriculum, a school-wide focus. Class discussions and cooperative learning are major components of English classes, and all students are expected to participate fully. Advanced courses in English include AP English Language, offered in the junior year, and AP English Literature, a twelfth-grade course. The English department prides itself on meeting the needs of all students at GFHS, from those still learning to read, speak and write well, to those who have mastered these skills and continue to fine-tune.
Last Modified on January 13, 2020