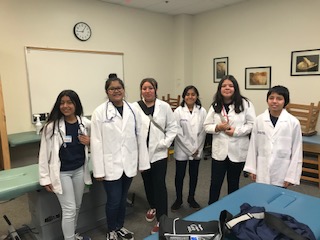 A club for students interested in the medical field
Hippocrates Circle is a Southern California Kaiser Permanente program designed to motivate under-represented students towards careers as physicians. This community outreach was founded in 2000 at the San Diego Medical Center by Dr. Ricardo Sistos (Family Practitioner at Kaiser's Rancho Bernardo Medical Facility), Maria E. Torres and Laarni A. Fontillas (Sales and Account Management, Labor and Trust Funds).

The program included four interactive venues between students and physicians. The first venue is an opportunity for students and physicians to share personal experiences and discuss challenges to achieving a successful medical career. In the second event, students tour Kaiser Permanente medical facilities and experience a day in the life of a physician. The third venue is a tour of a medical school campus. Students meet medical students, as well as members of the admissions committee, to address questions about medical school. Concluding with a graduation ceremony with the students, their families and mentoring physicians celebrates the students' participation in this program and their goal to pursue a career as a physician.

San Diego's program has flourished. As of July 2004, there have been over 400 students and 23 physicians who participated in the program. News of the successful program reached other Kaiser medical centers and in January of 2004, Riverside Medical Center created a local chapter. Under the leadership of Dr. Paniagua, Hippocrates Circle Physician Champion and Ozzie Martinez, Riverside targeted 8th grade Latino students in the first cycle of the program. In May of 2004, the Riverside Hippocrates Circle held a graduation ceremony for 27 students.

Today, Kaiser Permanente's Southern California Region has identified this program as a significant community benefit that should extend throughout all of the medical centers in the region. In the fall of 2004, the Hippocrates Circle Program was introduced at four new Kaiser Medical Centers: Bellflower, West Lost Angeles, Los Angeles, and Orange County. In the fall of 2005, three more Kaiser Medical Centers joined the program: Baldwin Park, Fontana and Woodland Hills. Lastly, in 2006, Panorama City and South bay were the last two Kaiser Medical Centers to participate in the program. Our goal is to eventually have this program implemented in all Kaiser Southern California medical centers, supporting a population of over 4 million members.