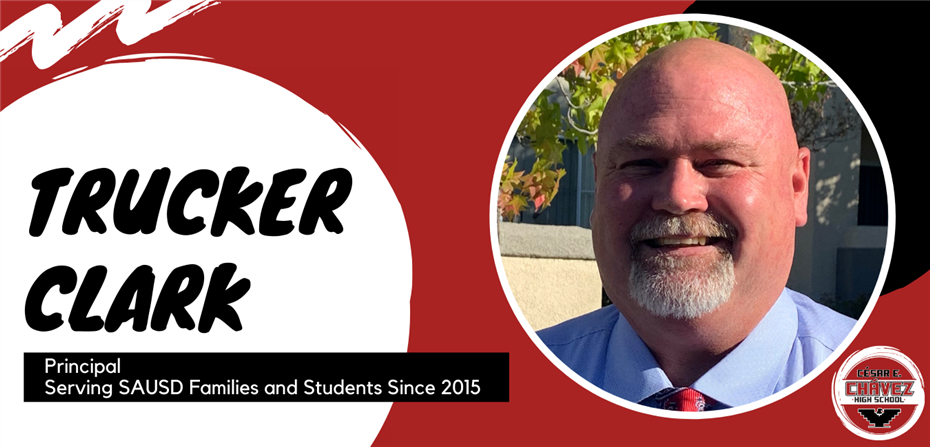 Trucker Clark

Principal

714-430-5700

trucker.clark@sausd.us

Serving SAUSD Families and Students since 2015
Welcome to César E. Chávez High School. My name is Trucker Clark, Principal of César E. Chávez High School, and I would like to introduce myself.

I am honored to be working at César E. Chávez High School. I have nearly twenty-eight years' experience working as an Educational Professional. During that time, I have worked as an Instructional Aide, Campus Supervisor, Teacher, Vice Principal, and Principal: working with at-risk youth, grades 1stthrough 12th. I have worked in California with the Kern County Superintendent of Schools from 1992-1996 as an Instructional Aide, 1996-1998 as a Campus Supervisor, 1998-2004 as a Teacher, 2004-2006 as a Vice Principal, and 2006-2008 as a Principal; with the Santa Clara County Office of Education from 2008-2010 as a Principal; and with the Merced County Office of Education from 2010-2012 as a Principal. I had moved to Idaho for two years in 2013-2015 and worked as a Teacher with the Jerome School District working with Middle School Special Education at-risk students. In 2015, my family and I moved to Orange County and I began working with Santa Ana Unified School District as a Principal at REACH Academy. I earned my Associates Degree in History from Bakersfield College, Bachelor Degree in History and Single Subject Social Studies Teaching Credential from California State University Bakersfield, Master Degree in Education, Administrative Services Credential and CLAD – Crosscultural, Language, and Academic Development Certificate from Fresno Pacific University, and I am currently working towards earning my Doctorate Degree from the University of Southern California in Organizational Changer and Leadership.

My motto is being a "Passionate Champion for staff and students." Passionate is to be compelled or ruled by strong emotions, feeling or actions, and a Champion is a person who fights, defends and or supports others. I do this by being a servant leader, who truly wants the best for the staff, students, parents, community and the district. My approach in working with at-risk students is student centered, and one that creates a second chance at success. I believe the team (staff, students and parents) does this by having caring connections and relationships, providing an alternative method of teaching, assessment and learning, rigorous and relevant teaching and curriculum, intervention and prevention, extended learning opportunities, safe and healthy environments, and collaborative partners. By having those, we can meet the unique educational, social, physical, and emotional needs of these diverse students we serve.

If you have any questions or would like more information, please do not hesitate to contact us.