Jackson Elementary Wellness Center | Centro de Bienestar de Jackson
The Wellness Center will act as a hub where parents, family, staff, and community members and partners can collaborate and engage in meaningful interactions, sharing information and experience with each other to benefit students, the school, and the entire community.

Family Engagement is a full, equal, and equitable partnership among families, educators, and community partners to promote children's learning and development from birth through college and career.

In our practice of FACE in SAUSD, we are excited to share with you more information about the Wellness Centers. The Wellness Centers are a component of our practice of FACE in SAUSD and they are located inside every single SAUSD school.

---

El Centro de Bienestar actuará como un centro donde los padres, la familia, el personal y los miembros y socios de la comunidad pueden colaborar y participar en interacciones significativas, compartiendo información y experiencia entre ellos para beneficiar a los estudiantes, la escuela y la comunidad entera.

El Compromiso Familiar es una asociación plena, equitativa y equitativa entre familias, educadores y socios comunitarios para promover el aprendizaje y desarrollo de los niños desde el nacimiento hasta la universidad y la carrera.

En nuestra práctica de FACE en SAUSD, nos complace compartir con usted más información sobre los Centros de Bienestar. Los Centros de Bienestar son un componente de nuestra práctica de FACE en SAUSD y están ubicados dentro de cada escuela de SAUSD.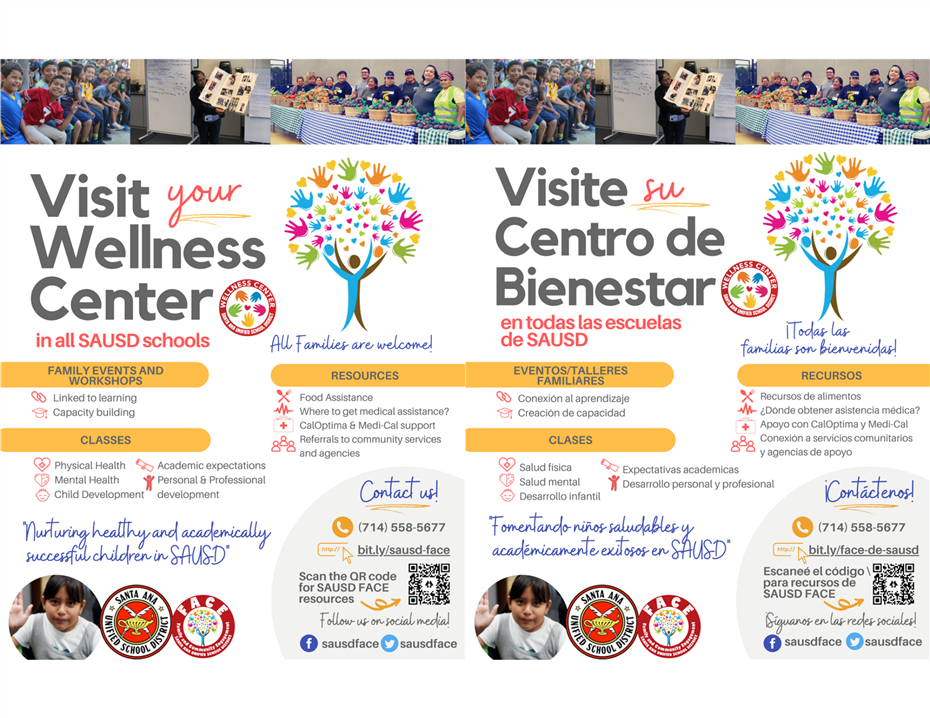 Who is your FACE Liaison? | ¿Quien es su Enlace de Familia y Comunidad?
FACE Impact Report | Informe de impacto de FACE