Enroll Now in SAUSD SchoolsEnroll now in the Santa Ana Unified School District for the 2020-21 school year. Click here to begin the process.

If you have missed our Zoom Parent Meeting today we recorded the meetings for your convenience. Please click the link to view the presentations https://bit.ly/3hrnV7x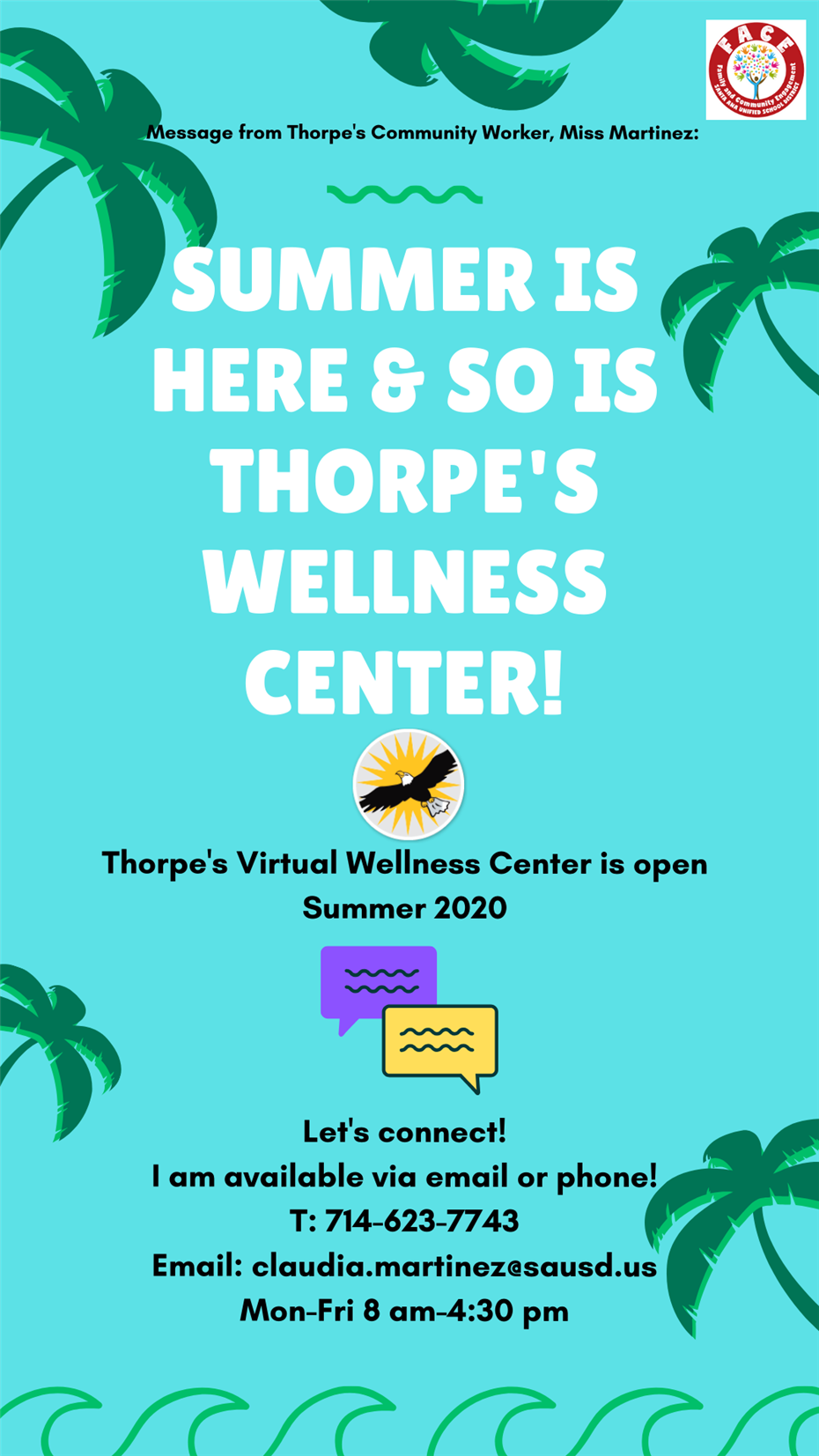 Our News
In an effort to raise literacy levels and inspire continued academic success throughout Santa Ana, the Santa Ana Public Library is partnering with the Santa Ana Unified School District to get a library card into the hands of each student attending a Santa Ana school. Visit http://santa-ana.org/library/libcard/pilotproject.asp to learn more!

Have you downloaded the SAUSD app? It features articles and photographs highlighting the programs, events, staff members, and students of our district. The app is offered in the Apple and Google Play Store. Simply type SAUSD or Santa Ana Unified.

Guidelines for contacting teachers and students during the school day.

Reminder: Every Wednesday is a modified day. Grades 1-5 are dismissed at 1:36.
Principal's Message
Welcome back to the 2020-2021 school year! We are excited to return to school. Our teachers are anxious to begin teaching virtually. They have been attending training and learning the Best practices for virtual teaching to maximize students learning. Our theme for this year will be "Perseverance". Despite the difficulties we face, we continue to have high expectations for all of our students. Everything will look different this year but our hope is that the results will be the same. Jim Thorpe will remain one of the top elementary schools in Santa Ana.

We realize that these changes are challenging for families and it is our intention to offer you support along the way. We will continue to offer training to our teachers, students and parents.

We ask for your support and positive mindset as we embrace this school year. Please know I have an open door policy. Feel free to contact me with any questions or concerns.

Let's watch our students SOAR!!

Karen Knecht, Principal

Karen.knecht@sausd.us

¡Bienvenidos al nuevo año escolar 2020-2021! Estamos emocionados de regresar a clases. Los maestros están ansiosos de comenzar a enseñar de manera virtual. Han asistido a entrenamientos y prácticas para ensenar virtualmente y aprovechar al máximo el aprendizaje del alumno. El tema este año será "Perseverancia". A pesar de las dificultades que afrontamos, seguimos teniendo altas expectativas para todos nuestros alumnos. Todo parecerá diferente este año, pero esperamos que los resultados sean positivos. Jim Thorpe seguirá siendo una de las mejores escuelas de Santa Ana.

Nos damos cuenta que estos cambios pueden ser un reto para las familias y es nuestra intención ofrecerle apoyo a lo largo del camino. Seguiremos ofreciendo entrenamiento a los maestros, alumnos y padres.

Le pedimos su apoyo y una mentalidad positiva. Sepa que tengo una política de puertas abiertas y no dude en contactarme con cualquier pregunta o inquietud.

¡Miremos a los alumnos VOLAR!

Principal Karen Knecht

email: Karen.Knecht@sausd.us

Assistant Principal Cynthia P. Esteban

email: Cynthia.Esteban @sausd.us

Assistant Principal Alisa Tincup

email: Alisa.Tincup@sausd.us
Upcoming Events
There are no upcoming events to display.