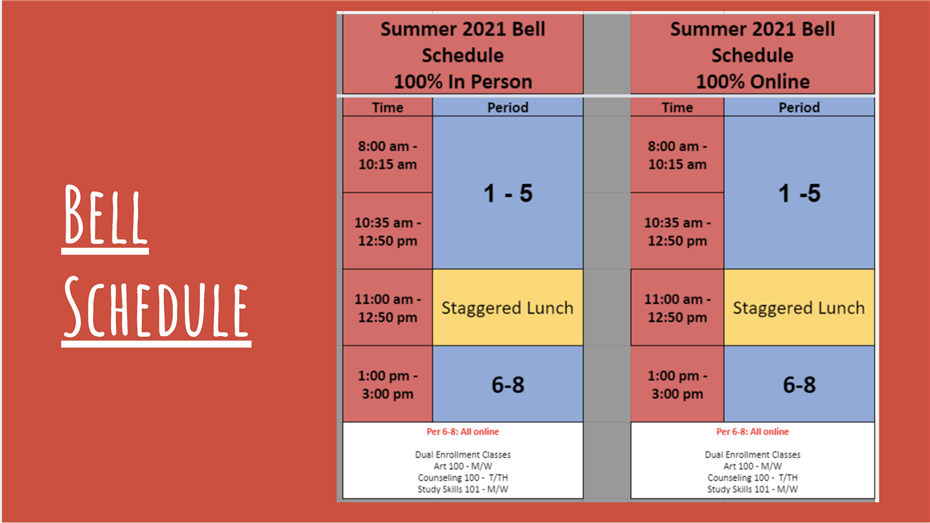 Summer School 2021

In-Person and Online Options begin June 8

Summer School Principals: Oralia Cordova, Liz Enloe and Jennifer Huynh

Office Manager: Gladys Carlos-Moreno

Email: gladys.carlos@sausd.us

Phone: (714) 567-4910

For SUMMER 2021, ALL students coming to campus are required to have one completed Parent Permission Form on file. You can either:

-Bring a printed, signed copy

-Pick-up a copy from the school to take home for signature

All students will receive an email with courses they are registered for prior to the first day of school.

Please contact your student's Counselor should you have questions about summer school course registration. Counselor contact information may be found by clicking here.

If you have further questions, please contact us at (714) 567-4910. Please leave a detailed message with your student's ID, last name, first name, your question, and a number where you can be reached. We will return your call as soon as possible.

Directora de la escuela de verano: Oralia Cordova, Liz Enloe and Jennifer Huynh

Gerente de oficina:

Gladys Carlos-Moreno

Teléfono:

(714) 567-4910

Para el VERANO de 2021, TODOS los estudiantes que vienen al campus deben tener un formulario de permiso de los padres completado en el archivo. Tu también puedes:

-Traiga una copia impresa y firmada

-Recoger una copia de la escuela para llevar a casa y firmar

Todos los estudiantes recibirán un correo electrónico con los cursos para los que están registrados antes del primer día de clases.

Comuníquese con el consejero de su estudiante si tiene preguntas sobre la inscripción en el curso de la escuela de verano. La información de contacto del consejero se puede encontrar haciendo clic aquí.

Si tiene más preguntas, contáctenos al (714) 567-4910. Por favor, deje un mensaje detallado con la identificación de su estudiante, apellido, nombre, su pregunta y un número donde pueda ser localizado. Nosotros le devolveremos la llamada tan pronto como sea posible.