Stay Connected Via Email
Stay connected with your child's school by receiving important messages, newsletters, and enrichment opportunities from community organizations directly to your email.
Click on the "Parent Portal Entry" banner to submit your email.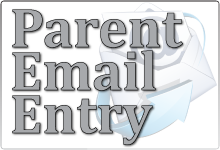 If you do not have an email address, there are a number of websites that will allow you to create a free account. The District does not endorse any of these companies; however, these are the most popular websites that offer free email addresses.
Email Providers
www.aol.com · www.yahoo.com · www.gmail.com · www.msn.com · www.hotmail.com
Check Us Out on Social Media
Like us on Facebook:

Follow us on Twitter : SantaAnaUSD
Watch us on You Tube: Santa Ana Unified School District News
Watch us on Vimeo: SAUSDNews
Follow us on Instagram: SantaAnaUSD
Download Our Free Mobile App
Let's Talk!