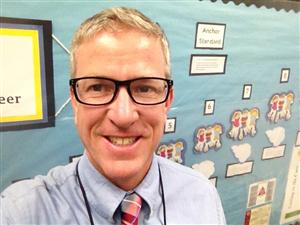 Principal: Peter Richardson
We have had a wonderful 2014-15 school year! Thank you to all of our students, their families and our teaching staff for making it a year of growth for all of our students. During the summer, the school will look a little different because construction will be going on in all of the original buildings of the school. However, we will have several summer programs up and running on campus, including Engage 360 with students from Martin and Franklin Elementary from June 23-July 27, Summer Enrichment from June 22-July 16, Padres Unidos for incoming kinder students and their parents from June 23-July 23 (on Tuesdays and Thursdays only). Also, our cafeteria will be serving breakfast and lunch free of charge to all youth who come to school between 8:00-8:30 a.m. (for breakfast) and 11:00-12:00 noon (for lunch). Please enter the school via Olive St. and the parking lot, to come on to campus.
Despite the construction, our office will be open in it's normal location in front of the school on Wilshire St. through June 30. It will be closed for the month of July, and will then re-open on August 3.
If you have any questions about Engage 360 summer program, please call Ms. Jaimes at 714-480-8052. If you need to reach our school office, call 714-480-8000.
During the summer, please visit the public library once a week so students can check out books and read every day. Also, complete the summer activity packet and the district's family project, and play Jiji and Smarty Ants 15 minutes each day. This will help our students be prepared for the 2015-16 school year, which begins on September 1st.
Have a safe, happy, healthy summer!