A Short Biography on Glenn L. Martin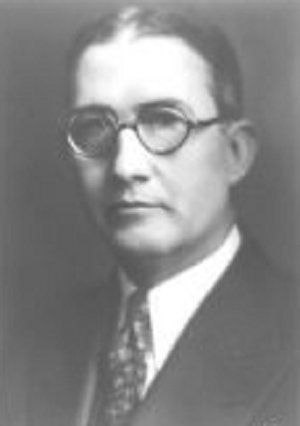 "The way to build aircraft or anything else worthwhile is to think out quietly every detail, analyze every situation that may possibly occur, and, when you have it all worked out in practical sequence in your mind, raise heaven and earth and never stop until you have produced the thing you have started to make."
- Glenn L. Martin (1918)
Glenn L. Martin( January 17, 1886- December 15, 1955) was an pioneer in aviation who started the Glenn L. Martin Company.

Glenn L. Martin was the third American to design, build, and fly his own plane. He is arguably the father of the modern aircraft manufacturing industry in the United States, having employed many of the early aviation pioneers who would go on to start other major aircraft companies.
Glenn L. Martin was a young businessman in Santa Ana, California who taught himself to fly in 1909 and 1910. He did not have the technical background so he built his first airplanes with auto mechanics in an empty church building that he rented. He made his first successful flight in 1909. By 1912, he became an airplane manufacturer.

He trained talented engineers and managers who later became airplane manufacturers themselves including William Boeing, Donald Douglas, Lawrence Bell, and James S. McDonnell.

Martin built legendary aircraft such as the B-10 bomber, China Clipper, B-26, P5M Marlin, Mars, B-57 Canberra, 404 airliner, and P6M SeaMaster. Planes he manufactured called the " Martin Bombers" were used during World War II.

The Glenn L. Martin Company produced over 80 different types of aircraft totaling more than 11,000 planes, including Boeing B-29s and the Martin Water Bombers which were recently used to put out fires in Southern California. The company then ventured into missiles, space and electronics and, since the Lockheed merger in 1995, has now established itself again as a prominent aircraft manufacturer.
Fransisco Villalobos, Reporter for Univision
Written by 5th grade students Zoe Morrison and Monzerrath Duran
An Amazing Visit from a Martin Alumnus
Have you ever had a famous reporter visit your class? We, the scholars in Ms. Westergard's 5th grade class, had that happen to us on Friday, February 1, 2011. Francisco Villalobos, who is a former Martin student from 1985, is now a reporter for CNN and Televisa. Some of the things he does are interview famous people and report on events that have happened in the world. He has been in scary and dangerous situations, and has met many celebrities.
As a boy, Mr. Villalobos lived with his mother in Mexico City. He was very grateful, joyous, and lucky with what he had. He had a big house and was getting a good education. Sadly, his msother died from cancer and he had to go to live with his father in Santa Ana. On the first day of school, he came to Martin in a taxi, wearing a suit and carrying a briefcase! His schooling here was excellent, because he learned a lot of English, more than he knew when he came. He went to Carr for middle school, Saddleback for high school, and on to USC for college. His dream was to become a pilot, but unfortunately he had the disease epilepsy and he could not fulfill his dream. So he decided to try to become a reporter for television and radio. After much hard work, he finally accomplished this and became a reporter for Televisa, and then for CNN.
"Cisco", as he told us to call him, lives in Texas. His job as a news and sports reporter has taken him many places around the world, and he has met numerous famous people. Some of the evens he has covered are the oil spill in the Gulf of Mexico, 9/11, the earthquake in Mexico, Hurricane Katrina, and the border problems between Mexico and California. Some people he has interviewed have been Kobe Bryant, David Beckham, Chicarito, and Barack Obama! One of the most important interviews he has done was with Neil Armstrong, the first man to walk on the moon. This interview was only Armstrong's 2nd interview since his moonwalk in 1968! Cisco is very proud of that accomplishment.
Our class learned many important life lessons from Cisco's story. Some lessons we learned were that you are very blessed and lucky about what you have in life. For example, if you have a house and food, feel lucky because some people do not have even that. Someone always has it worse than you. Moreover, remember where ever you come from, you can accomplish your dreams. Just don't give up, and be grateful for what you have. It's not always about luck. It's about how hard you work to accomplish your goals and dreams. Thank you for coming to our class, Mr. Villalobos! We really appreciate it!!
***********************************************

Retired Teacher at Martin Marilyn Powell-Berns,
Sister of Colin Powell
Marilyn Powell Berns was born in New York City on September 1, 1931. Her parents, Luther and Maude Ariel Powell were Jamaican immigrants who came to the United States in the 1920s seeking a better life.
Marilyn and her brother Colin were raised in the Bronx section of New York. She attended public schools and graduated as a certified teacher from Buffalo State Teachers College in 1953. It was in Buffalo that she met Norman C. Berns, her husband and partner in life of almost 53 years. Their marriage was blessed with two children Lisa and Leslie.
Marilyn began her teaching career in Buffalo and taught for 15 years before the family moved to Orange County, California in 1978. They eventually settled I Lake Forest, California where they lived for over 27 years. Marilyn continued her teaching career in Los Angeles and at Glenn L. Martin Elementary School in Santa Ana, where she was a respected and beloved teacher for over 10 years. She retired from teaching in 1995.
Marilyn was very active in community affairs. She was a member of the American Association of University Women and a founding member f the coalition of 100 Black Women of Orange County. She served as a member of and keynote speaker for the Guilds of the Orange County Performing Art Center and was a chairwoman of its Madame Helena Modjeska chapter. She also served on the Board of Governors Philanthropic Foundation for California University at Fullerton. In 2005, she received the Southern Orange County Alumnae Pan Hellenic Athena Award for community service.
Matriarch to the family and friend to so many world wide, Marilyn's warm smile, quick laugh and optimism inspired everyone. For her friends, were like family, a source of joy and constant delight. Marilyn lived her life t the fullest. Her thoughtful spirit was known by all.
Marilyn passed away on July 22, 2005 but her memory will be kept alive in our hearts. Marilyn is survived by her treasured husband, Norm, daughters Lisa Berns ad Leslie Berns Richman, son- in law, Adam Richman, grandchildren, Camille and Graham, her brother Colin L. Powell, a tightly knit extended family and so many dear friends, all of whom were blessed by her love.
On November 15, 2007, we will honor Marilyn Powell Berns through the dedication of the Glenn L. Martin Elementary School Library and Media Center. We celebrate her love and inspiration of reading and the joy she brought to so many hearts. Marilyn touched so many lives during hr lifetime and now she will continue to touch lives here at our school and in our community.
********************************************************