Dear Parents,
Welcome Back! I am excited and honored to be the new principal at Heroes Elementary School. The staff and teachers at Heroes Elementary School have been working diligently to ensure that our students return to a beautiful school. We are excited to begin our partnership with you!
I look forward to meeting each one of you and to begin our work together. This school year will bring new learning and experiences. I am committed to building a strong partnership with you this school year. Together we can fortify student learning and equip our children with the skills and habits necessary to prepare them for college or a career.
My job as principal at Heroes is to serve students, parents and the community. In order to meet your needs and that of your children, I commit to make myself available to you. I have an open door policy and am available to hear your concerns, suggestions and ideas. With that in mind, I invite you to become involved at our school. This year, learning opportunities at our school will include, parent workshops, English classes, as well as technology trainings. Our monthly parent meetings will serve as a great way to stay informed about school news, listen to relevant speakers and receive information about community resources. Leadership opportunities will include School Site Council, English Learner Advisory Council, and PTA.
Throughout the school year, we will work hard to build a strong sense of community and belonging at our school. We hope you will join us for community events such as the Fall Festival.
Again, thank you for taking such an active role in your child's education. I look forward to a great year!
Diana Torres
Principal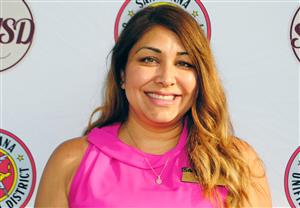 Estimados padres de familia,

¡Bienvenidos! Estoy muy emocionada y tengo el honor de ser la nueva directora de la Escuela Primaria Héroes. El personal y las/los maestras/os de la Escuela Primaria Héroes han estado trabajando diligentemente para asegurar que nuestros estudiantes regresan a una hermosa escuela. ¡Estamos muy contentos de comenzar nuestra asociación con usted!
Espero conocer a cada uno de ustedes para comenzar nuestro trabajo juntos. Este año escolar traerá nuevos aprendizajes y experiencias. Estoy comprometida a construir de una sólida alianza con ustedes este año escolar. Juntos podemos fortalecer el aprendizaje de nuestros estudiantes y equipar a nuestros hijos con las habilidades y hábitos necesarios para prepararlos para la universidad o una carrera.
Mi trabajo como directora de la escuela Héroes es servir a los estudiantes, padres y la comunidad. Con el fin de satisfacer sus necesidades y la de sus hijos, me comprometo a ponerme a disposición para usted. Mi póliza es que siempre están bienvenidos y estoy disponible para escuchar sus inquietudes, sugerencias e ideas. Con esto en mente, los invito a que participen en nuestra escuela. Este año, las oportunidades de aprendizaje en nuestra escuela incluirán: talleres para padres, clases de inglés, así como cursos de capacitación de tecnología. Nuestras reuniones mensuales de padres servirán como una gran manera de mantenerse informado sobre las noticias de la escuela, escuchar a los oradores pertinentes y recibir información sobre los recursos comunitarios. Oportunidades de liderazgo incluyen el Consejo Escolar, el Consejo Asesor de Estudiantes de Ingles, y PTA.
A lo largo del año escolar, vamos a trabajar duro para construir un fuerte sentido de comunidad y pertenencia en nuestra escuela. Esperamos que se una a nosotros para eventos de la comunidad tales como el Festival de Otoño.


Una vez más, gracias por tomar un papel tan activo en la educación de su hijo/a. Espero un gran año escolar!
Diana Torres
Directora