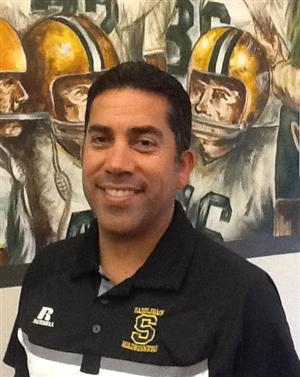 Welcome to Saddleback High School!
Home of the Roadrunners
2802 South Flower Street
Santa Ana, CA 92707
Phone: 714.569.6300
Fax: 714.569.6399
Welcome to Saddleback High School!
I want to take this opportunity to welcome all of you to our great school. We here at Saddleback take great pride in ensuring that all our students receive rigorous instruction and personalized support services to provide successful transition to higher education and beyond.
Vision
Saddleback High School strives for excellence in meeting the needs of all students by designing unique learning experiences to generate excitement and growth for inquiry, as well as a celebration of individual differences and perspectives by providing a safe and inclusive environment which encourages open-mindedness.
Mission
Saddleback students will develop effective communication, collaboration, and critical thinking skills, along with research techniques, and self-management strategies to become more balanced and reflective individuals. Additionally, we will work together to deliver rigorous instruction and personalized support to provide a successful transition to higher education and beyond, while promoting lifelong learning. The Saddleback staff and community will strive to create an awareness, understanding, and respect of individual and civic responsibilities, both locally and globally, in a multicultural, rapidly changing society.
We at Saddleback are proud to say that we offer many opportunities for our students take part in. We offer many wonderful programs such as NJROTC, Visual and Performing Arts, STEM Biomedical Academy, Advance Placement, International Diploma, and we are starting a candidacy application for the International Baccalaureate (IB) program. We are excited and energetic about our student's opportunities to learn. We take great pride in building student and parent relationships and making sure that communication amongst us all is vital and critical to our student's success. We will work together both school and family, to ensure that we maximize all resources to help make our student's dream a reality.

Lastly, I encourage all families to get involved with our school as much as possible. Come on by and visit our school or attend one of our many school events. Go Roadrunners!!!