Welcome To Taft Library!
Mrs. Vargas
(714) 550-1421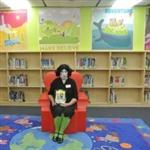 "The more that you read, the more things you will know.
The more that you learn, the more places you'll go!"

Come and Visit our School's Wonderful New Library!

Thank you Heart of America and Target!
ALL LIBRARY BOOKS DUE BY JUNE 9, 2017
HAVE A GREAT SUMMER! KEEP READING!!