Return to Headlines
Mendez Teacher of the Year & SAUSD Classified Employee of the Year
We would like to congratulate our MENDEZ TEACHER OF THE YEAR,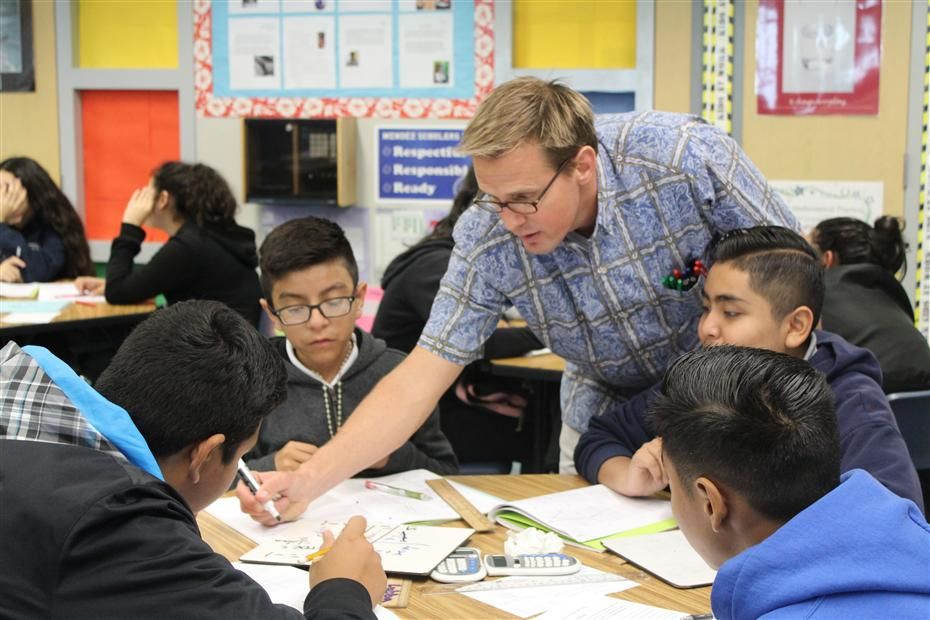 Mr. Lubba graduated from the University of Santa Cruz with a major in Global Economics, after having studied abroad in Germany. Before becoming a teacher Mr. Lubba was a life-guard, teacher aide and water polo coach. He received his Multiple Subject credential, with a supplementary authorization to teach math from Loyola Marymount University. Then he began his teaching career in El Segundo where he taught nearly every subject in grades 4-12. Mr. Lubba has been teaching at Mendez for 7 years, where he has been a math teacher at every grade level offered at Mendez. Outside of the being a math teacher, Mr. Lubba is also: a math department chair (second term), an Academic Pentathlon coach, a Saturday Math Academy instructor (fifth term) and a Math Intervention instructor. Mr. Lubba is currently developing the first completely online Algebra Course for SAUSD, utilizing a variety of platforms such as Canvas, Khan and Youtube. He plans to teach this course next year in addition to his current classes. Mr. Lubba has also been instrumental in developing and leading an afterschool robotics program at Mendez. Mr. Lubba has led PBIS staff development trainings and on a daily basis he leads by example with his own positive behavior. Mr. Lubba has participated in Morning Fitness club not only interacting with students at Mendez, but also running it city wide races, representing Mendez and the Run Strong Foundation. Mr. Lubba is the glue that holds a staff together. He greets everyone with a smile and always listens. Every morning Mr. Lubba walks through the doors at Mendez and proclaims to the kitchen staff (and all other staff members nearby), "Buenos Dias Todo el Mundo!" To which everyone echoes back the same proclamation.
:::: :::: :::: :::: :::: :::: :::: :::: :::: :::: :::: :::: :::: :::: :::: :::: :::: :::: :::: :::: :::: :::: :::: :::: :::: :::: :::: :::: :::: :::: :::: :::: :::: ::::
We would like to congratulate the SAUSD Classified Employee of the Year,
Mr. Joe Miramontes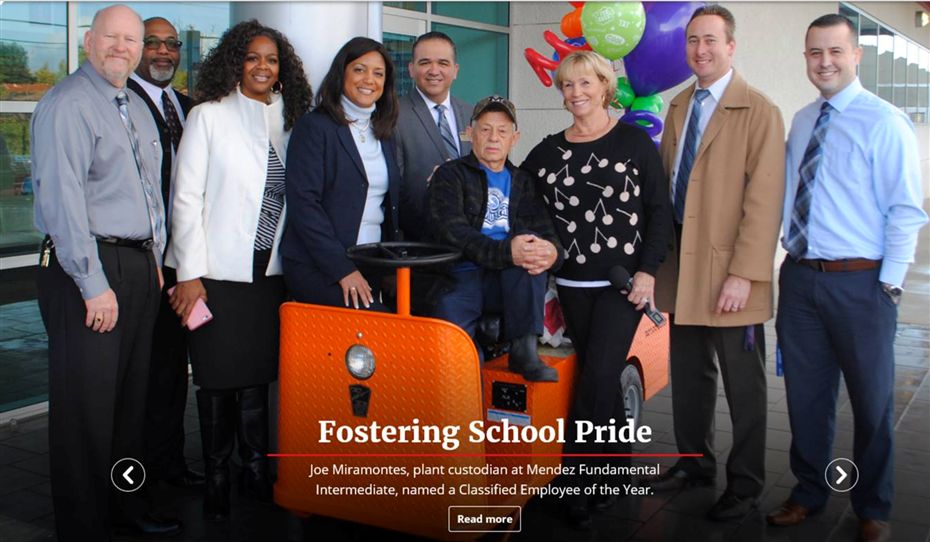 Joe Miramontes is a plant custodian who has worked for the District for 28 years, and at Mendez since it opened. He was named Classified Employee of the Month for January 2016, and was nominated for working tirelessly to ensure that the school facilities are in top shape and that everything is working properly. Miramontes believes that when students walk into a clean, pleasant campus, they will take greater pride in their school and ultimately will learn better and faster. Everything he does is driven by this belief, and he performs all his duties with kindness and compassion.