Return to Headlines
Viewing Party for XQ Super School Live: September 8, 2017 at 7:30 p.m. at the Frida Cinema in DTSA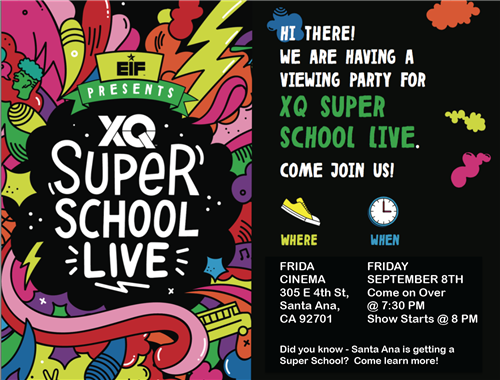 As part of SAUSD's efforts to design high-quality engaging schools and programs for our students, the District has developed the Círculos High School program concept.
Circulos is being awarded a $2.5 million grant for development by the XQ Institute as part of its Super School Project, which aims to rethink high school in America.
Elements of Circulos are being rolled out this fall at Advanced Learning Academy, Century High School and Chavez High School.
Circulos will get national exposure on September 8, 2017 during the star-studded XQ Super School Live TV broadcast, and we're inviting the community to a special viewing party at the Frida Cinema!
Click here to view a video about what it means for SAUSD to be part of the XQ cohort of schools.
Click here to attend the special viewing party at the Frida Cinema in downtown Santa Ana.