Return to Headlines
MARTIN STUDENT RECOGNIZED DURING 'EVERY STUDENT SUCCEEDING' BREAKFAST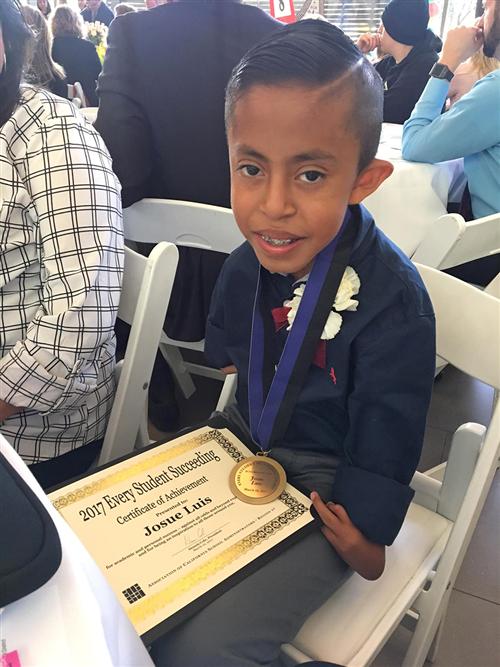 Student Josue Luis, of Martin Elementary School, was recognized March 10, 2017 at the Association of California School Administrators Region 17 Every Student Succeeding breakfast at Bowers Museum.
The program honors students at all grade levels who have succeeded against all odds. He was nominated by Martin Principal Peter Richardson.
Josue was born with various physical challenges, including that his arms are not typical. But during his five years at Martin, he's desired to do everything that his peers do.
The following summary was used to introduce Josue at the event, and speaks to his triumphant spirit:
"Josue Luis has a can-do, positive attitude. He is an avid reader, loves math, and is a member of the Martin tap dance team, choir, and soccer team. Josue checks up on his former teachers to see how they are doing. This year, he is taking special care of a classmate who is just starting to learn English. Josue, as you can see, is also very handsome. He inspires everyone around him to be happy, friendly and hard-working."
Congratulations Josue!