Return to Headlines
SANTA ANA UNIFIED SCHOOL DISTRICT NOW ENROLLING NEW STUDENTS FOR 2017-18 SCHOOL YEAR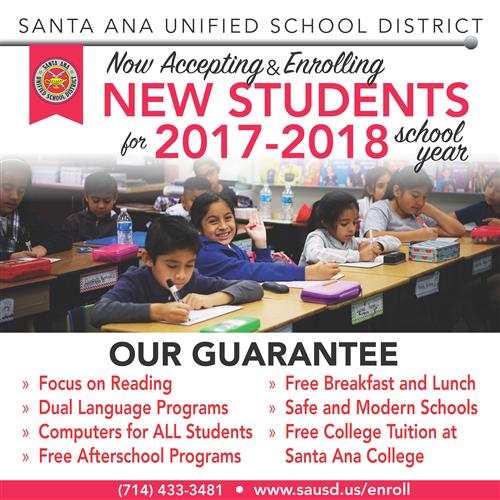 The Santa Ana Unified School District is now accepting and enrolling new students for the 2017-18 school year.

We provide our students with high quality teaching and offer an array of enriching programs, including STEM (Science, Technology, Engineering and Math), Visual and Performing Arts, Dual College, 21st Century Career Academies, Early Childhood Programs and Special Needs Programs.

In addition to a strong focus on reading at every school, students have access to dual language programs, computer devices for school and home, free afterschool programs, free breakfast and lunch, safe and modern campuses, and free tuition at Santa Ana College during their freshman year.


If you know someone who can benefit from our excellent programs and offerings, please pass this enrollment information along to them!